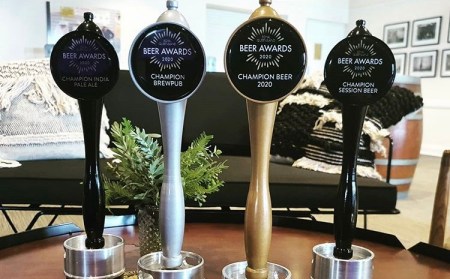 Moffat Beach Brewing Co's Moffs Summer Ale has been announced as the Grand Champion Beer at the Royal Queensland Food and Wine Show.
The brewery also claimed the award for Champion Brewpub, Champion Session Ale and Champion India Pale Ale.
"We would like to take the opportunity to thank everyone who has been with us on our journey so far," the team said in a Facebook post. "Thanks to our wonderful staff and customers, there would be no Moffat Beach Brewing Co without you.
"We would also like thank Steve Hendo Henderson for his support over the past couple of years and his kind words after the event. It was also great to see so many Sunshine Coast breweries bring home medals and in particular 10 Toes picking up the award for Champion Pale Ale."
Ballistic Beer Co won the Champion Large Brewery, as well as two claiming two beer titles. Its Oaks XPA won Champion Hybrid Beer for the second year running. Ballistic also walked away with Champion Beer using Desalinated Water, winning a $10,000 education bursary from SEQwater for its Water Me Down.
"This proves it wasn't just luck last year!  It's a unique beer and people love it," says Ballistic's head brewer Lachy Crothers. "I want people to like my beers and continue drinking them. If they buy one of my beers, I want them to go to the bar and order the same again.  If people order one of my beers and then move onto something else, I haven't done my job right"
Aether Brewing took the title of Champion Small/Medium Brewery and its Black as Your Heart beer won Champion Amber Ale.
Over 400 entries from 51 breweries were judged by a panel chaired by Caolan Vaughan, Chris Sheehan, Lachlan Crothers, Lee McAlister-Smiley, Neal Cameron, Steve Henderson and Tina Panoutsos (who was also the panel chair coach).
The 2020 Category Trophy winners for beers were as follows:-
Grand Champion Beer: Moffs Summer Ale, Moffat Beach Brewing Co (draught)
Champion Pale Ale: Pipeline, 10 Toes Brewery (packaged)
Champion Amber Dark Ale: Black as Your Heart, Aether Brewing (draught)
Champion Porter Stout: Potts Point Porter, Sydney Brewery (packaged)
Champion Hybrid Beer: Oaked XPA, Ballistic Beer Co (draught)
Champion Lager: Surry Hills Pils, Sydney Brewery (draught)
Champion India Pale Ale: Hazed & Confused Hazy IPA, Moffat Beach Brewing Co (draught)
Champion European-style ale: 5 Brett Saison, One Drop Brewing Co. (packaged)
Champion Session Beer: Moffs Summer Ale, Moffat Beach Brewing Co. (draught)
Champion Strong Beer: Imperial Stout, Felons Brewing Co (draught)
Champion Mixed Culture Beer, Fathom Berliner Style Weisse, Green Beacon (packaged)
Champion Beer Utilising Desalinated Water: Water Me Lawn, Ballistic Beer Co (draught)