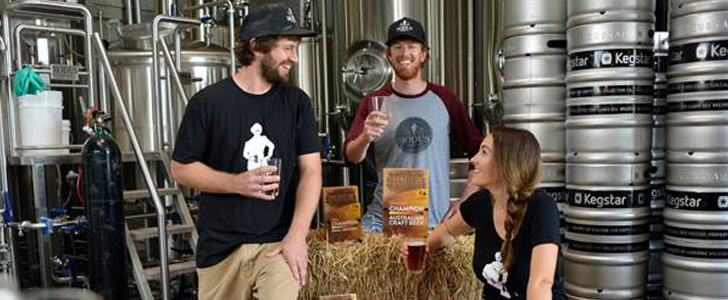 Australian craft beer wonderkids, Modus Operandi from Sydney's Northern Beaches, are set to roll out new 500ml cans late next month, courtesy of the team's shiny new canning line.
Famous for their 946ml CANimals, the team at Modus always planned on installing a canning line but wanted to take their time and ensure beer quality and consistency.
"For us the CANimals were never a mass distribution option, so a canning line has always been on the cards but we resisted the contract or 'beer buyer' route as we wanted to make sure that our beer was solid, consistent and the way we wanted it and we could make it in our own brewery to ensure consistency and quality," said co-founder Jaz Wearin.
"And to be honest we were initially very happy with the brewpub holy grail: kegs only. However, we had always planned on distributing in cans due to their much kinder touch on beer, the environment and distribution and we wanted to do it our way: brewing and canning ourselves on the best canning equipment we could afford and using our own in-house expertise."
Keeping with the big can theme, the retail cans are 500ml and adorned with the new MO logo.
"Four x 500ml cans gives you the full 2L per four-pack, old-school style and doesn't short change the savvy consumer in terms of quantity to fit in with the 'price point' argument," explained Wearin.
"I guess we said if we want to be crafty let's not only play with the design of the can but also release a sized can that we want to drink from. Big cans baby…!"
Adding to its swag of awards, Modus Operandi was recently named Australia's Top New Brewer for 2015 by popular beer review website, RateBeer, which tallied nearly one million reviews from 2015 to form its RateBeer Best Awards.