Modus Operandi is celebrating its third birthday this weekend with three special release beers and a birthday shindig at the Mona Vale brewery.
Two of the three beers celebrate the hop forward style that has garnered Modus such acclaim over just a few short years: a 'Yeast Coast IPA' and 'Triple Deity IPA', the third beer being a 'Black Lab Milk Stout' named after their much loved brewery dog, Stout.
The Yeast Coast IPA (6.6% ABV) is a collaboration between Wheaty Brewing Corps, Fixation and Modus, this time brewed at the Modus brewery and put into limited edition cans with a collaboration label.
Brewed with oats, torrified wheat and Amarillo, Citra, El Dorado and Simcoe hops, Founder of Modus Operandi Grant Wearin told Beer & Brewer that the resulting beer is a "hazy breakfast juice".
"We think it's the best East Coast style IPA that we can brew," Wearin said. "It's gone through a number of iterations: yeast changes, grist changes, hop changes, the whole works, but we arrived at this recipe which we up-scaled to the Modus brewery from the Wheaty's and that enabled us to put it in cans."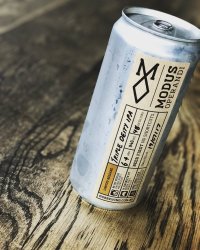 The Triple Deity IPA (6.4% ABV) has been brewed especially for the Modus birthday party, and is bursting with tropical fruit and pineapple aromas thanks to a massive (and rather pricey) dry hop.
"It's an IPA that you'd only ever brew for your birthday, because it's basically dry hopped with $100 notes! I tasted it this morning actually and it's going to be literally kegged on the morning of our birthday – there wouldn't be many times in a beer drinker's life where they actually drink a beer that's literally kegged that morning, it's literally as fresh as it gets."
Wearin remained tight lipped on the exact hops that have gone into the Triple Deity, saying: "We're not really coming clean on what they are but if you look at a price list, pick the two most expensive ones and chances are that's what's in there – well there's more than two but the predominant dry hop are two really expensive ones."
Finally, the Black Lab Milk Stout (5.0% ABV) is not only a celebration of the brewery's third birthday, but also the birthday of its resident black Labrador.
"Our Lab, who's also a mainstay of our brewery next to Jaz and I, was born on the exact same day that we opened the brewery, and of all the hundreds of beers that we've brewed here over the years, he gets offered to try all of them and it's the only beer he's ever drunk so we decided to name it after him," explained Wearin.
"It happens to be a really easy drinking, middle of winter milk stout that's got a fair bit of decadence behind it so it will sell to the public as well, not just our dog! We did the Milk Stout last year and this year, and obviously we've put it in cans again so it will be available in our 500ml tinnies throughout our network."
The birthday party this Saturday also includes live music, an 80's Run DMC costume competition, a 'side show game' with prizes, a limited third birthday tee and finger licking grub in addition to three special release beers.
The beers will all be available to take away from the brewery on the day, and after that, will enter wider distribution. The Black Lab Milk Stout will be distributed nationally, while the two IPAs will have a much more limited release.
For a full list of stockists, keep an eye on the Modus Operandi blog– which should be live this afternoon (20 July) at around 4:30 PM.