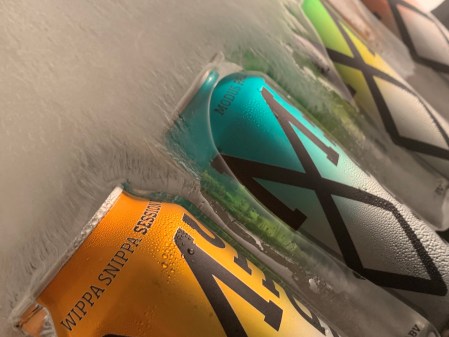 Modus Operandi has lodged plans to build a brewery in the Newcastle suburb of Merewether.
The Mona Vale-based brewery has long had ambitions in New South Wales' second city and co-founder Grant Wearin believes that the time is right to expand up there.
"To begin with, Modus was going to be in Newcastle," he tells Beer & Brewer. "It was between Newcastle and the northern part of the Northern Beaches, so it has always been on our radar.
"It's just taken us this long to get our business into a position where we're ready to it and to do it right, and also to get the right site in Newcastle, because it's pretty site-specific with the plans that we've got."
The proposed location for the new brewery is an old spray painting workshop a few hundred metres back from the beach and just round the corner from where Wearin's grandfather ran one of Newcastle's first grocery stores in the 40s.
"It's an area and demographic that suits what we do," continues Wearin. "Newcastle knows great beer. Some great beers are already brewed in Newcastle. We'll be joining that fold, which is really excited.
"It's also quite a flexible site. There's a bit of cool building and history there. We're looking to do some significant works to the site and really turn it into a much improved manufacturing site with technology and investment, and also attached to that will be a hospitality offering that we're really excited about."
Part of the need for the new brewery is driven by the fact that Mona Vale is at capacity. The hospitality side of the Mona Vale brewery has been consistently reduced to make way for more brewing capacity, with Modus having taken out four separate leases on the property already.
"We brewed more beer in the last quarter than we nearly did in the whole year before it," explains Wearin. "We've really outgrown that site and we'd ideally like to give the Mona Vale site a bit of a touch-up and return it to the glorious venue it can be when it's not a full-time, five or six days a week production brewery. We've juggled that for a long time and we're bursting there, so it needed to be done."
The Merewether brewery is hoped to be the birthplace of new programs that Modus has been hitherto holding back, so while it will start out brewing core favourites, the site will be mostly dedicated to innovation and new ideas.
"It's a clean slate, really, to build the brewery of your dreams. That's what we're aiming to achieve. I think it's fair to say that brewery of your dreams is a very different beast six years into operation than it was on day one. There's some exciting stuff attached to it."
Things are still in the very early stages, but Wearin aims to have the new brewery up and running in 2020. He is moving to Newcastle temporarily to oversee construction.
"Having built a brewery in six months before I'm pretty confident we can do that so it's more also the build and the execution and making sure all stakeholders including the community are happy as well," he adds.
"It's bloody exciting and we're looking forward to joining the already existing Newcastle beer community by putting some roots up there as well."