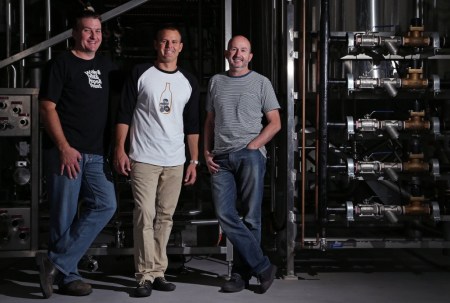 Fermentum has announced further leadership changes after chairman Jaime Cook stepped back from his executive role at the end of 2019.
As it enters a new decade, Fermentum is set to become the fourth largest brewer in Australia, with the proposed merger of CUB and Asahi.
Ben Summons has been appointed as CEO of Fermentum's businesses – including Stone & Wood Brewing Co, Fixation Brewing Co, Granite Belt Cider Co, Forest for the Trees and the Square Keg sales and distribution business.
Summons' role will be to coordinate the collective efforts of each of these discreet business units, as well as running all the functional and operational elements.
"I'm excited to be taking on a broader role within the family at such an exciting time," says Summons. "With a strong portfolio of discreetly positioned businesses, a range of scalable brewing facilities, and an amazing team who are also mostly co-owners, we are well placed to meet the challenges and opportunities that will emerge over the next few years."
Previously, Summons has been leading the Stone & Wood business for close to three and a half years. In that time, the business has more than doubled in size as it continues to evolve.
To replace him, Fermentum has appointed Nick Boots as general manager of Stone & Wood Brewing Co.
Boots has been head of sales at Stone & Wood since 2018.
"It is a real honour to be given the opportunity to lead such an amazing business," comments Boots. "We have been working hard over the last couple of years to build on the strongplatform thathas been created by the founders,Benand the amazing Stone & Wood team.
"Whilst we continue to grow Pacific Ale at double digit pace,we have developed greater depth in our portfolio of brands with both Green Coast Lager and Cloud Catcher Pale Ale also both in very strong double, digit growth. In addition,brands like The Gatherer and the Counter Culture range are highlighting our ability to innovate and explore more spaces within the market."
"It is encouraging to see that Fermentum is on track to achieve a sales volume of 15 million litres in F20 with a growth rate in excess of 15%, highlighting it is carrying good momentum into the 2020," the Fermentum board said in a statement.