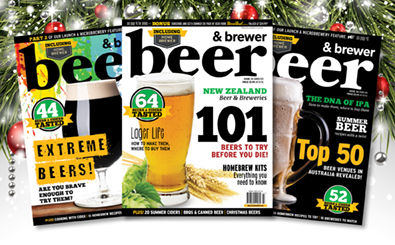 This will be the final Beer & Brewer enewsletter for 2015 as we crack a few beers and take a break over Christmas and New Year's.
We'd like to take this opportunity to thank all our sponsors who have supported us in 2015, it's been a big year for the magazine and we couldn't have done it without you.
To all our readers, thanks for continuing to support the magazine and enewsletter, we hope you've enjoyed what we've brought you this year and, rest assured, we have some big things planned for 2016.
Our next newsletter will be on 14 January, but until then, we wish you a very happy and safe Christmas and New Year. Whether crafting or drinking beer (or both), we hope you enjoy some awesome brews over the break!