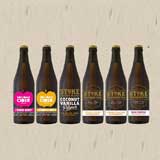 McCashin's Brewery in Nelson, NZ, is throwing a little shindig to celebrate the launch of its new product range – and there's plenty to celebrate. For starters, the new range includes two new variants joining the Rochdale cider family.
Next up is a new seasonal beer, a coconut vanilla pilsner – which joins the very special range of Recognition beers, brewed to honour past employees of McCashin's Brewery; Jim Pollitt, John Whiti and Bill Peck.
The launch party is on from 4:30pm – 6:30pm, Wednesday 23 October at McCashin's Brewery, 660 Main Road, Stoke, Nelson, NZ. For more info on the event, or to check out the new additions to the range, head along to the website at www.stokebeer.co.nz.