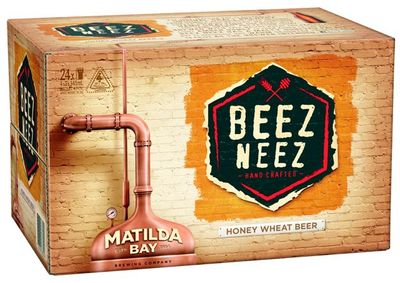 As hinted at in their release of Minimum Chips, Matilda Bay has unveiled a new labelling look that touts their heritage as one of the grand dames of Australian craft beer.
Designed by Cowan Design, the packaging is aimed at celebrating the history of the brewery. The new format features the original copper kettle that sat in the Fremantle brewery back in 1984.
All the beers in the range will now feature the neck label that debuted with their latest release, as well as new look backgrounds on the cluster packs and cartons.
According to Jamie Fox, Matilda Bay Marketing Manager, the packaging is about reinforcing the heritage of the brand and its beers with consumers.
"We've been chatting to beer drinkers and it became obvious pretty quick that they know Fat Yak, they know Beez Neez, they know Redback," he says. "But they haven't made the connection that they all share the Matilda Bay family name, so haven't taken the chance to get to know some of the other beers."
All the brews will still be known by their original names, eg Fat Yak and Dogbolter, but will now have the Matilda Bay neck label to tie them together.
Cowan's Creative Director, Rob Riley, says that it is important to maintain the balance in the design. "It was important to balance the unique personality of each of the products – which consumers know and love – with the brewing credentials of the brand."
Following Minimum Chips, the new look will extend to rest of the Matilda Bay range from late December 2012.