A national celebration of cider made from Australian grown apples and pears will be held across the country this Saturday (March 11).
Australian Cider Day is an annual event that draws attention to Cider Australia's 100% Australian Grown trust mark – an industry-led and owned initiative launched in 2018 to boost understanding about product origin.
Cider producers mark this annual day by organising cider events, tastings and other fun activities to educate drinkers about quality Australian cider.
Cider Australia president Warwick Billings said the trust mark and Australian Cider Day highlight what makes Australian craft ciders unique – the fact they are made with Australian grown fruit rather than imported juice concentrate which goes into an estimated 90% of the ciders sold in Australia.
"By choosing ciders that display the trust mark, drinkers are supporting Australian fruit growers and their communities and boosting Australian jobs in the craft cider industry," Warwick said.
More than 80 Australian cider producers are now registered to use the trust mark.
Cider Australia features Australian Cider Day events on its website and promotes use of the social media hashtag #drinkaustraliancider so everyone can see what the Australian cider community is up to.
For more details visit cideraustralia.org.au/australianciderday or the Australian Cider Day Facebook page.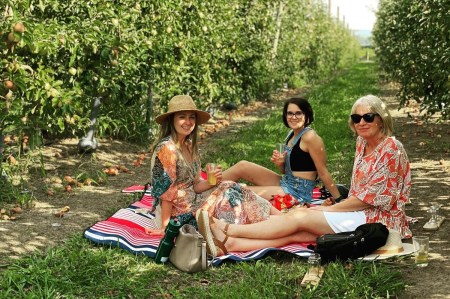 Some Australian Cider Day events to head along to:
Australian Cider Festival 2023 @ Napoleone Cider Orchard Bar – from 11am until 7pm the team will be celebrating with food trucks, live music and specialty ciders. Free entry and family friendly.
Cassilis Estate @Metung Farmers' Markets – Cassilis will be spreading the word about great Australian Cider from 8am to 12.30pm at the Metung Village Green.
Cider Festival @ The Bellevue Farm Gate – taste lots of local ciders, enjoy some live music and lots of food.
Festival on our farm @ Darkes Cider – Free entry (donation for parking to local Rural Fire Brigade), free entry into the farm for apple picking, food trucks, live music, lawn games, juicing demos, ticketed cider sensory classes (small fee with proceeds to local charity 'Need a Feed').
This is an edited version of a media release distributed by Cider Australia.