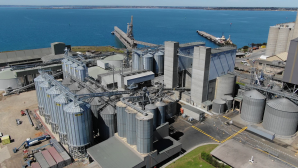 Malteurop has opened its expanded malthouse in Geelong, making it one of the largest facilities of its type in the world.
The expansion will enable almost half of all of Victoria's malting barley to be processed at the site, with malt production increasing from 80,000 tonnes to 200,000 tonnes.
The project was designed to give Malteurop the opportunity to meet increasing demand and capitalise on growth markets in south east Asia, with 85-90% of production destined for exports markets.
"We are looking to capitalise on growth in beer consumption in the Asia Pacific and particularly in south east Asia, which is now a significant area of growth for the worldwide beer market," says Trevor Perryman, managing director of Malteurop Australia.
"Asia already has a deficit in its production of cereal grains and malt, so Australia, as a major producer, is well placed to meet that demand. With Malteurop's Geelong facility so well placed in terms of proximity to the highest quality and most abundant malting barley sources, and its bayside location on Australia's main export gateway, we have a fantastic opportunity here."
"I see that as a great benefit to Victorian grain growers and for the economy of Geelong," adds Andrew Weldemann, chairman of Grain Producers Australia, and a grain farmer at Rupanyup. "It's an important investment and we can only see good things coming from it
"It provides more opportunity for Malteurop to deal direct with the farmer, which improves supply chain efficiency and reduces costs associated with storage and the freight that comes with that."