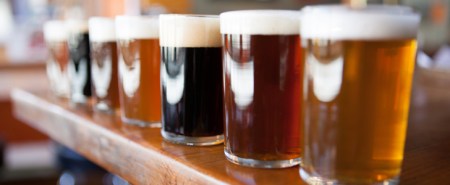 By Andy Young, TheShout
The Craft beer Industry Association (CBIA) is planning to put a focus on Australia's independent brewers as part of a membership reform agenda.
The move, which has been building for some time, saw co-founder Chuck Hahn and Lion's craft beer brands, resign from the association and the CBIA say that future membership will be based on brewer independence.
"The CBIA will re-define membership eligibility based on independent (privately held) brewers without relying on an arbitrary definition of 'craft beer'. It is proposed that the board structure and the name of the association will both be changed to reflect the new direction," the CBIA said.
The decision means that as well as saying good-bye to the Lion brands, Australian Beer Company, owned by Coca-Cola Amatil and Mountain Goat, now owned by Asahi, are unlikely to be involved in the association in the future. Although both could currently become Associate Members of the CBIA, Executive Officer Chris McNamara told TheShout, that the new constitution has not yet been finalised so it is still unclear if that will happen.
"We haven't locked down what the membership structure will look like or what we will be putting to the members, but we should have a better idea on all of that next week," McNamara said.
"We will start talking to the members about it in the first of our forums, which start in Hobart on 20 March, so we will have everything ready to go by then."
LION RESIGNS
Yesterday morning Chuck Hahn announced that the Malt Shovel Brewery, Little Creatures and White Rabbit breweries would be resigning their membership of the CBIA.
"We have great respect for the CBIA and have supported it since its beginning – however, we believe the current internal focus on 'big vs. small' is divisive and a distraction from more important issues and opportunities facing the brewing industry," Hahn said.
He added: "We have consistently brewed some of the most authentic, diverse, often challenging and always high quality brews available in Australia. In doing so, we, along with Matilda Bay, Hahn and Little Creatures, essentially launched the craft segment in Australia.  Coopers was certainly one of the original craft brewers.
"Ironically our Little Creatures Pilsner was only last year named Champion Australian Craft Beer at the CBIA's 2016 Craft Beer Awards – the result of a blind taste test by expert judges, who were unable to pay attention to the beer's ultimate owner. We were the only Australian brewer to win a Gold Medal in the World Beer Cup last year with James Squire Swindler. This is what we care deeply about – the quality of our beers.
"On that basis we believe it is short-sighted for the craft sector to be squabbling amongst ourselves. We should be working together to build craft in Australia – feeding off one another's success as we always have done – rather than confusing beer drinkers into thinking ownership structure has any impact on the quality of what they're drinking.
"Brewing is currently facing a number of challenges. Chief among them are the widespread misinformation about beer among consumers, and an increasingly hostile regulatory environment that threatens to undermine a vibrant beer culture for the responsible majority. Only by working together can we address these issues."
HELP FOR THOSE WHO NEED IT
The CBIA also confirmed that with Lion resigning from the association, Ash Cranston of Little Creatures had also offered his resignation from his role as National Craft Brewer representative on the CBIA board.
"The CBIA acknowledges and thanks Ash for his commitment to the association, not just in his relatively short time as a director, but across a number of years. We would also like to acknowledge the very generous support that Lion has afforded the CBIA since its inception," the association said.
It added: "Chuck Hahn is an undisputed pioneer of the craft beer movement in Australia and his contribution to the industry and to the CBIA's creation and development over the years cannot be overstated. We owe Chuck a debt of gratitude and know that he will continue to be a much loved and celebrated member of our industry.
"The entire focus of the CBIA is on ensuring it is an industry association that supports the brewing businesses that need it. It would be unexpected if Lion believed they needed our help. Of course the multi-national brewers continue to be represented by their own Brewers Association of Australia."
CONSTITUTIONAL CHANGES
While the membership changes are likely to lead to changes for Mountain Goat and Australian Beer Company, head of the latter, Tony Scanlon told TheShout that, while he agrees with Hahn, for the time being the company will continue to work with the CBIA.
""Chuck Hahn has hit the nail on the head," Scanlon said.
"When Australian Beer Co started up a few years back, it came with the simple goal of helping more Australians explore and enjoy craft beer. That hasn't changed. We're still committed to producing quality beers, working with quality brewers, and showcasing quality local ingredients. Like Chuck, we believe this is what is important to beer drinkers.
"The real opportunities facing our industry are around education and enjoyment. We've come a long way but when you look at markets like America and the UK, we've still got a lot of work to do. We still believe that CBIA plays an important role in this journey so, for the time being at least, Australian Beer Company will continue to work with others within the industry who share our passion."
The CBIA board is now working with its lawyers, Minter Ellison, on the details of the constitutional changes with a view to taking its recommendations to an Extraordinary General Meeting of members in Melbourne during Good Beer Week. In the meantime the association will hold member forums to discuss the changes in each state, with the first planned for Hobart in 20 March.
The association does move forward with good wishes from Hahn, who said: "We wish CBIA every success and hope the industry will find a way to unite and collaborate on important issues into the future."