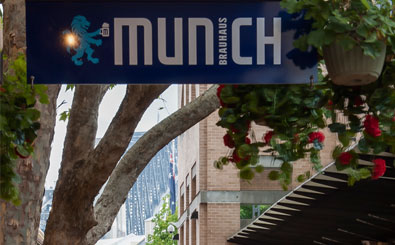 To celebrate its 40th birthday, the Löwenbräu Keller in The Rocks has undergone a major facelift and reopened as Munich Brauhaus.
The revamped restaurant and bar has adopted the same formula as the original Munich Brauhaus on Melbourne's South Wharf.
"The much-loved Löwenbräu Keller is legendary, but after 40 years it's time to raise the bar on all things Bavarian," said Urban Purveyor Group chief executive Thomas Pash.
"Munich Brauhaus is the more modern, big Bavarian bier hall that we want to take forward as one of our key brands. We see a good opportunity to extend the massive bier hall and garden concept to other states. Plus we believe it complements our 10 smaller Bavarian Bier Cafés, which are also undergoing a new look and feel and are growing in number and popularity across Australia."
Sydney's Munich Brauhaus will have a year-round Oktoberfest atmosphere, more beers including the recently-released house-brewed Crafty Bavarian range and a broader menu that encompasses classic Bavarian favourites as well as burgers, hotdogs and salads.
The makeover includes a large extension to the bar area, added lounge seating and TVs. A refurbished interior and outdoor terrace will host a broader range of entertainment, DJs and performers.
From Monday (22 Feb) there will be special offers available every day of the week, such as a $20 Uber Schnitzel and 300ml craft beer deal on Mondays and an extended happy hour (4-8pm) on Thursdays for $6 haus steins (500ml) and $6 haus wine.