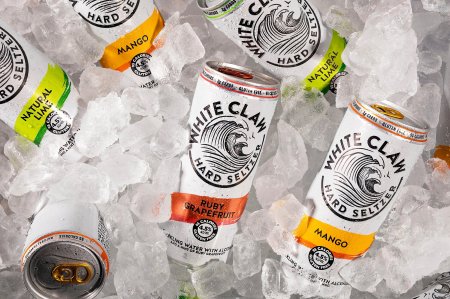 As the potential tsunami that is White Claw reached our shores this week it's been predicted that Australian hard seltzer producers will benefit from the impact.
Back in May of this year Lion secured the Australian distribution rights to the wildly popular White Claw hard seltzer brand from America and three flavour versions became available for purchase nationwide this week. White Claw is the US's most dominant hard seltzer company in a multi-billion dollar drinks category that has been making its own ripples Down Under for the last few months.
As part of a feature on the rise of hard seltzers in Australia, that will appear in our Summer edition out in early December, Beer & Brewer spoke with a range of people involved in the category Down Under about what impact White Claw's arrival would have on producers here.
Johnny Latta from drinks import company Experienceit Beverages and Moon Dog's Brook Hornung, who release their hard seltzer brand Fizzer next week, were in unison that White Claw's arrival would benefit local producers. This was because the wider public will get educated about what a hard seltzer is via the hype that surrounds the American brand combined with the marketing Lion will do to support its release.
Meanwhile, Shaun Blissett, head brewer at Wayward Brewing in Sydney, who announced their entry into the hard seltzer market today, felt White Claw would be "the reference point" for seltzer drinkers to discern what the best from America tastes like compared with what he believed were far better Australian versions.
With the best part of a decade turning Australians on to new drinks trends from overseas under his belt, Johnny from Experienceit said White Claw's arrival had been anticipated by the local industry for some time.
"Most Australians still don't know what hard seltzer actually means. It's still very much an American concept. But we've all been waiting for this time, for White Claw to arrive, and see how Lion will educate the public about what hard seltzers are," he said.
"I'm sure they will educate the public about how seltzers are low cal and low carb and target them to the young and the health conscious people who still want to socialise with an alcoholic drink in their hand. That can only be a good thing for local producers."
Brook at Moon Dog echoed Johnny's thoughts. Moon Dog's hard seltzer brand Fizzer will hit Victorian shelves with four flavours next Wednesday and other states the following Monday.

"There's just no seltzer category per se in Australia at the moment but I certainly think the idea of a light, fruity and refreshing drink perfectly suits the Australian climate and the Australian market," he said.
"We feel there will be a lot of education that goes on and we're reasonably happy for them (Lion) to do the educating and we'll focus on the concept of 'once you know what a seltzer is, then you really should try ours'."
Following today's announcement of Wayward's first ever sub-brand W Seltzer that will be available for purchase in three different flavours next week, head brewer Shaun believes White Claw's presence will lead seltzer drinkers to Australian versions.

"We need White Claw here as a palate's reference point and to give seltzers the boost that they need," Shaun said.
"Until people have tried the original and supposedly the best they won't know what the benchmark is and how Australian products compare.
"Having White Claw here, despite the fact it will probably gobble up a large portion of the market share, I think it will make people say to themselves 'hey, this is ok but these ones over here from Australian producers are so much better'."
Meanwhile, after reporting one of the largest surges in enquiries for any product before it's even hit shelves, Dan Murphy's launched a pre-order campaign for White Claw where almost 1,500 customers placed orders within the first 48 hours.
Alex Freudmann, managing director of Dan Murphy's, said: "This is the first time Dan Murphy's has hosted a pre-order of a ready-to-drink beverage, and we were blown away by the number of customers who wanted to make sure they would be amongst the first to try White Claw the day it launches in Australia. Thousands of our customers are looking forward to finally trying the most anticipated drinks launch of 2020 in Australia."