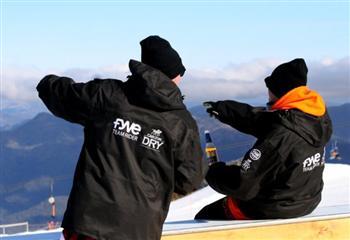 Are you young, got some spare time, into snowboarding and keen on free beer? Well, what could possibly be the greatest short-term job ever is now recruiting: Carlton Dry Snow Ambassador position in Falls Creek, Victoria.
According to the job application specs (yes, you have to apply through Seek.com just like a real job and something tells us the competition will be fierce) the new Ambassador will possess the following attributes:
– advanced snowboard experience
– be up for having a good time
– enjoy having a Carlton Dry or two
– want to make new mates
"We're giving two Aussies the chance
to live the dream this winter, getting paid for carving up the slopes
and showing snow goers the ultimate experience at Falls Creek," said
Andrew Meldrum, general manager of marketing for Carlton Dry at CUB.
"It's not every day you can find a way to get paid
to live the ultimate winter experience."
You'll also need a whole 11 weeks free as the job starts mid June and goes right through until an unspecified date in September. On the plus side there is a list of bonuses as long as your arm as your accommodation will be paid for, along with your season lift pass, and, to top it all off, the two lucky recruits will be getting paid to hang out with snowboarding pros and beer enthusiasts. It's almost enough to make us here at HQ wish we'd learned to snowboard properly.
If you think you've got what it takes to become one of the Carlton Dry Snow Ambassadors you can check out the full details here. Applications close 23rd April 2012 by 4:00pm.