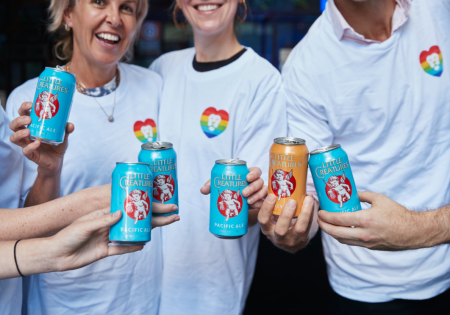 Nearly 30 years since Lion stablemate Hahn Ice sponsored the event and showcased a giant pink beer can in the parade Little Creatures has been named the official beer of the Sydney Mardi Gras for the next three years and for Sydney WorldPride in 2023.
In a statement Lion said the partnership between Little Creatures and Mardi Gras "reflects the brand's passion for connecting with consumers and contributing to community and culture in a positive, vibrant and sociable way – the way that Sydney Mardi Gras has been doing so for over 43 years".
"Joining with Mardi Gras once again elevates Lion's more recent work with the LGBTQIA+ community, including a multi-year relationship with Bobby Goldsmith Foundation via its special release beer Brooklyn Brewery Stonewall IPA, which raises money for Australia's longest-running HIV charity. Little Creatures has also supported WA's PrideFEST from its home in Fremantle."
Lion said it will triple its funding commitment to the Bobby Goldsmith Foundation in 2022, donating $60,000, as well as $10,000 of in-kind contributions.
Lion's chief marketing officer Anubha Sahasrabuddhe said: "As a company striving to do more for inclusion, we are excited to be back as an official sponsor of Sydney's world-famous Pride celebration.
"COVID-19 has had a devastating impact on all hospitality operators, but many venues and events that are so vital to Sydney's queer community have been among the hardest hit. A big reason we wanted to be involved is to support our vibrant and resilient pub, bar and hospo industry as they plan another incredible festival for everyone to enjoy in 2022.
"And going into it knowing that we'll be a part of WorldPride in Sydney in 2023 makes this announcement even more special."
Sydney Gay and Lesbian Mardi Gras CEO Albert Kruger said: "We're delighted to have Little Creatures join us as our official beer partner for the next three years. They have shown great dedication to equality, both within their organisation and for the wider LGBTQIA+ community."
Sydney WorldPride CEO Kate Wickett said: "Sydney WorldPride will be a wonderful opportunity to celebrate with old friends and make new friends as we welcome people from around the world. We are really looking forward to showing off the best in LGBTQIA+ arts and culture to the rest of the world. Little Creatures is a fantastic Aussie Beer and I'm sure some wonderful fun will be had and memories will be made over a couple of cold ones at Sydney WorldPride next year."