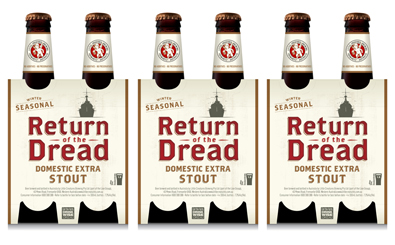 Little Creatures has launched its first seasonal release, Return of the Dread a domestic extra stout, which is available on tap and in pack.
Well-known for producing short-run batches of beer, Little Creatures wanted to create a serious brew that would last the entire winter. For its first seasonal release, Little Creatures decided to play with one of its first single batches; The Dreadnought. The brewers took inspiration from the old favourite and further developed the recipe.
Return of the Dread has six speciality roasted malts coupled with classic pale malt and a good dose of Fuggles hops thrown into the mix, making it a dark, black, formidable yet smooth stout, balanced with a pronounced bitterness.
"This is a much loved-style amongst Little Creatures and as each winter passed since the release of that original single batch, the brewers would indulge in some collective (somewhat tearful) reminiscing. This year, we said enough is enough; it's time for Return of the Dread," said Little Creatures Fremantle head brewer Russell Gosling.
"Return of the Dread is a most wonderful beer indeed. An exceptional stout with well-balanced flavours, the perfect marriage of dark malts and Fuggles hops is harmony in a glass."
Return of the Dread (7.2% ABV) features aromas of chocolate, vanilla and liquorice, with a sweet and slightly bitter taste that's very long in length. The palate is velvety with a medium-to-full body.
Return of the Dread will be available for the next three months. Following the winter release, seasonal beers will become a permanent feature on the Little Creatures calendar, with a summer edition set for release later this year. RRP: $18 for a 4-pack (330ml).