In the midst of the warmer months, where the sunsets of Fremantle become even more spectacular, there is a certain excitement in the air! Inspired by the free-living New Wave designs of the 1980s, merged with the colourful sunsets and personalities of Fremantle, the Freo Vice is the "it" drink of Summer. Showcasing the skyline of Fremantle under a pink sunset with a sparkling lock-up, the Freo Vice is confident and bedazzling, catching your eye from across the room. Sip on it in the sun or let it lead you to the dance floor in your best 1980's outfit.
Freo Vice is a fruity ale alive with a raspberry zing – both in taste and appearance. The berry aroma and the tart taste evoke memories of eating freshly picked raspberries and the colour matches, showcasing a vibrant raspberry red.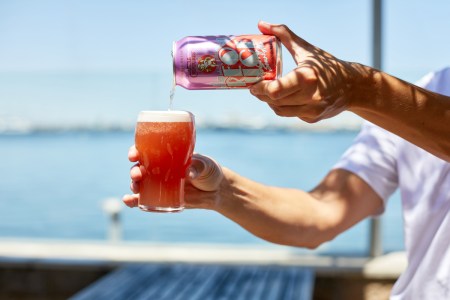 Brewed for refreshment, the Freo Vice balances fizz with a short fruity tang. Perfect for kicking back in the sun, it's a real treat to share with friends. Lock into one now, our brewers are saying this is Summer in beer and we can't wait to get around it.
Available in select stores around Australia, in Liquor Land, First Choice and Vintage Cellars.
https://littlecreatures.com.au/
https://www.facebook.com/littlecreaturesbrewing
https://www.instagram.com/littlecreaturesbrewing/
40 Mews Rd, Fremantle WA 6160
Ph: +61 (8) 6215 1000
This is a sponsored content piece. To find out more talk to the Beer & Brewer sales manager.