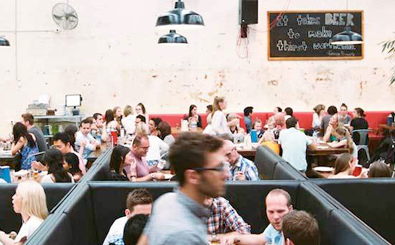 Written by Andy Young
Lion is not renewing its lease on the Little Creatures Dining Hall in Fitzroy, Victoria, which means it will close in February 2016.
Instead, Lion has said it will focus on the development of its Little Creatures Brewery Village and the new White Rabbit Brewery in Geelong.
Lion craft director Gordon Treanor said the decision came following a comprehensive review of Little Creatures' national marketing and hospitality strategy.
"Little Creatures is a brewer first and foremost. Whilst the Little Creatures Dining Hall has without a doubt contributed to the brand's growth in Victoria since it opened eight years ago, we believe venues attached to our breweries have the most promise for future growth, as we have seen at our iconic Fremantle venue in Perth, which now welcomes more than one million visitors a year.
"As one of the best-selling craft beers in Australia, Little Creatures has a very bright future ahead of it and we are thrilled to continue building the brand along the Eastern Seaboard from our new home base in Geelong.
"The Geelong Brewery Village is more than a brewery – visitors can enjoy a meal with family and friends, pop-up entertainment on the weekends, and visiting the markets full of local, Victorian produce on the second Sunday of every month. And there's more to come, with our new White Rabbit Brewery and Barrel Hall expected to open on the same site in time for summer."
The dining hall will remain open for the rest of this year and over summer before officially closing its doors on 1 February, 2016.
For more drinks industry news, click here.