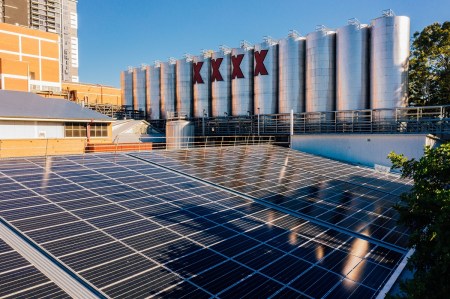 Lion's 2022 sustainability performance report details progress made by the large-scale brewery towards its environmental, social, and governance goals.
Key environmental achievements from the report include a 30 per cent reduction in scope 1 and 2 carbon emissions against a 2019 baseline and packaging now containing 64 per cent recycled content. In December, Lion signed a 100 per cent renewable power purchase agreement (PPA) with the lightsource bp solar farm in Woolooga, making Lion the first large-scale brewer to procure 100 per cent renewable electricity for all Australian and New Zealand operations.
Lion's sustainability director Justin Merrell said that the brand hopes to be a force for good in the world.
"This achieves our strategic carbon reduction target two years ahead of schedule and will eliminate around 138,000 tonnes of carbon emissions over the 9.5-year agreement, the equivalent of taking 45,000 cars off the road," he said.
Lion has set the goal of achieving net-zero emission across the value chain by 2050, and to reducing carbon emissions by 55 per cent by 2030. It has already surpassed the goal of producing 50 per cent recycled packaging by 2050.
"Having set ambitious targets that provide long-term direction for our actions, we are making good progress," Justin added.
"Key 2022 highlights include being recognised as joint winner of the Net Zero Action Award at the 33rd National Banksia Sustainability Awards, progressing toward net zero and continuing to promote the responsible consumption of alcohol."
As part of Lion's diversity, equity and inclusion journey, the brewer achieved a certification as a Family Friendly Workplace.
As part of the community investment program, Lion has also invested $5.2 million, which has supporting over 40,000 Alcohol&Me modules and reaching more than 400,000 New Zealanders since 2013. The community investment program also benefits the youth development-focused Graeme Dingle Foundation and mental fitness program Gotcha 4 Life.
"We continue to invest in the communities in which we work and in 2022 Lion employees completed over 4,700 hours in volunteering."
The original version of this story first appeared on our sister title The Shout. Subscribe to their newsletter here.