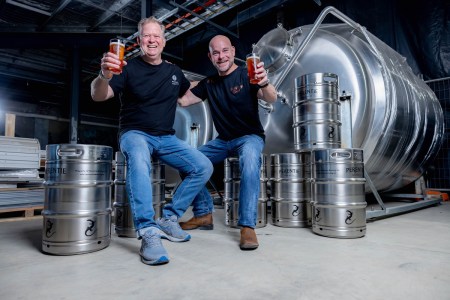 Perentie Brewing Co will be the Distillery Road Market's new anchor tenant with the reported $6 million South East Queensland brewpub set to open in the middle of next year.
With a laser-focus on traditional lagers brewed via authentic German methods on a brewkit capable of a million litres a year, the venture is being headed up by Distillery Road Market's (DRM) developer Kenton Campbell (above right) who is seeking guidance from Burleigh Brewing's master brewer Brennan Fielding (above left) on equipment, set-up and brewing processes.
Launched in 2020 in a former commercial warehouse space in Eagleby, DRM is a retail, food, beverage and entertainment district boasting 17,000 square metres of space and modelled on the likes of The Grounds of Alexandria in Sydney and the South Melbourne Markets.
Perentie Brewing will feature a purpose-built brewery and taphouse to realise Kenton's "vision… to create a beer house honouring the traditional German lager brewing process; to produce a crisp, clean lager… with an unmistakably Australian taste".
The relationship between the developer and Brennan dates back to 2009 when Burleigh Brewing created the Black Giraffe Black Coffee Lager that harnessed Zarraffa's Coffee – which is owned by Kenton. That lager would go on to win four World Beer Championship gold medals in the proceeding years.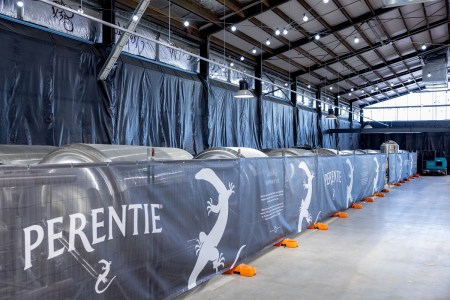 "I knew I needed the best to realise my vision, and so my first call was to friends and collaborators, Brennan and Peta Fielding," Kenton said.
"When Perentie started to become more than just a dream, I wanted to partner with the best, commissioning Burleigh Brewing's expertise as market-leaders, working with Brennan throughout the entire process."
Brennan, who has followed Reinheitsgebot from the very beginning of his brewing career and at times throughout Burleigh's 15-plus years of operation, said: "The Burleigh Brewing, Perentie partnership is a unique evolution of the strong relationship Peta and I have built with Kenton and (his wife) Rachel over the last 13 years, and the mutual respect we share for each other's business achievements. First and foremost, we are all about quality in our respective products and there is also a deep alignment across our business values. I'm really looking forward to getting the long-planned brewery up and running and I'm stoked that Burleigh Brewing will play an ongoing part in Perentie putting out a fresh, top quality lager range".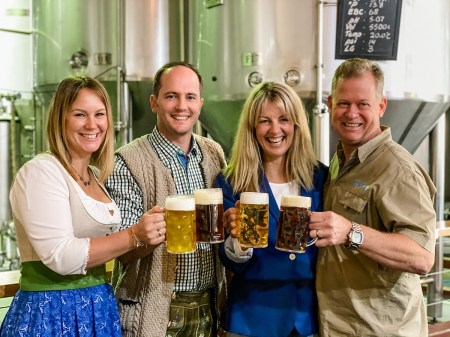 Prior to helping kick-start Perentie's line-up of lagers Brennan will be getting plenty of practice with German styles as Burleigh will finally get its chance to brew all the beers for Oktoberfest Brisbane.
Burleigh were meant to be the event's exclusive beer supplier last year until it was cancelled due to COVID, but now their Helles, Weissbier and Dunkel – all brewed to Reinheitsgebot specifications – will be the only ones flowing when the festival returns across two weekends in October at the Brisbane Showgrounds.
OKTOBERFEST BRISBANE EVENT DETAILS:
Where: Brisbane Showgrounds, Bowen Hills, Enter via Gregory Terrace
Dates: 7-9 & 14-16 October 2022
When:

Saturday: 12pm – midnight

Tickets on sale now at www.OktoberfestBrisbane.com.au/tickets/
General Admission $37 on Fridays & Saturdays and $25 on Sundays.
Bavarian VIP Experience Tables of 8 from $105 per person.