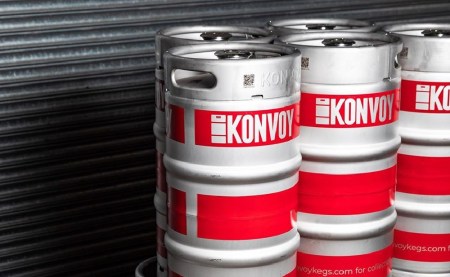 Keg renters Konvoy have enhanced their footing in New Zealand by acquiring the Red Kegs company and now approach the 200 trans-Tasman customer mark since launching in October 2019.
Konvoy New Zealand Ltd, a wholly owned subsidary of Konvoy Holdings Pty Limited, has now acquired the business and assets of Red Kegs Limited – a one-way keg leasing company that operate nationally in New Zealand.
Two of the original founders of Red Kegs – Andrew and Amanda Sharpe – will continue in their roles as the face of the company while their other staff will retain their positions. Konvoy's live tracking beacon technology, which are currently being fitted to its Australian kegs in Melbourne, will be added to Red Kegs inventory in the new year.
Konvoy founder Adam Trippe-Smith told Beer & Brewer the partnership was a sign of their commitment to the New Zealand market.
"For us, this is the next chapter of growth and allows us to have an even more meaningful position in New Zealand. When you've got scale you can provide an even better service to your customers," he said.
"We will look to take the best of their business and combine it with the best of ours.
"Red Kegs customers have had a great experience working with Andrew and Amanda and we don't want that to change."
Existing Red Kegs customers include Kiwi brewing heavyweights Behemonth (Chur), Hallertau and Cassels, and their addition takes Konvoy's portfolio of New Zealand-based breweries to approximately 60. It already featured the likes of Parrot Dog. With its growing list of Australian customers, Konvoy is approaching 200 clients on both sides of the Tasman.
"We could have tightened up and waited COVID out but we chose to invest in new people and raise capital," Trippe-Smith said.
"It has set us up for whenever this so-called 'COVID era' passes and we will be a better and more efficient business because of it."
One such investor in Konvoy's $8 million capital raise last month was the Sydney-based investment company Ellerston Capital and their head of investments Stuart Robertson has now joined their board.
His bio on the Ellerston website said he "has broad experience in investment banking, funds management and alternative investments and has held senior roles at BT Funds Management and Zurich Australia".
"Ellerston made a meaningful investment in us as part of that capital raise and Stuart is on the board of some of their other investments as well," Trippe-Smith said.
"We've wanted to add weight to our board for a while now. Stuart will bring a lot of his business nous to the table and we're delighted to have him on board."
Contact Beer & Brewer by clicking here to share your news and views.