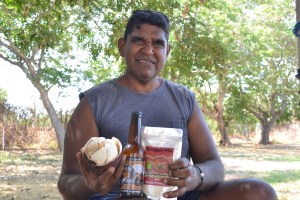 Robert Dann, an Indigenous, teetotal man from Kimberley WA, is developing a number of beers made using the native boab fruit.
He started off making iced teas for his tourism business, and then decided to go one step further and see if he could make a beer.
"It made its first appearance at Monk Brewery in Fremantle [on Australia Day] and a number of people had a taste," he says. "They said they couldn't taste the boab. So a couple of Kimberley people came and tasted it and they could taste it. We said we'd go on and make the beer just for this year. And I came across the idea of making ginger beer."
Dann got in touch with Fremantle's Billabong Brewery to make the ginger beer, using boab and bush ginger lemongrass, all natural ingredients from Kimberley. The story was then covered by ABC News, which has generated further interest in the products.
"It seems to be taking off since the report has gone out," says Dann. "People are writing to see where they can get their Boab Ginger Beer. I can't wait to taste the non-alcoholic version. It's got a good head, I'm told, and they said it's not over sweet and they can keep drinking it."
The first batch of ginger beer will be non-alcoholic because Dann's company does't yet have a liquor licence. However, once that is sorted, he intends to use the funds from the non-alcoholic product to make two more kinds – one with a 4.5% ABV and the other with a 2.5% ABV – although, of course, he will only drink the non-alcoholic product.
The ginger beer will be made available in bottles at first, but when the liquor licence is granted, there is talk of putting it in kegs as well. One target audience is the country's mining communities.
"We're trying to put the ginger beer into mining companies because they have a demand for low alcohol beer," says Dann. "We've spoken to Sodexo, a catering company for all the mining companies all around Australia. If it goes good, then we'll put it through the whole mining sites in Australia."
Dann and Billabong Brewery will also be making a totally separate boab beer, which will have an ABV between 2.5 and 3.5%.
According to Dann, the boab fruit provides a lemony flavour, as well as a 'real sherbet taste'. The boab flesh has also got vitamin B6, potassium, iron, zinc, vitamin C, energy, protein and dietary fibres.
"There's so much goodness in the boab," says Dann, who went out and picked the fruit to make porridge as a child to avoid going without food when money was scarce.
The project has been supported by Morrgul, a Broome-based Indigenous business development organisation, which started in 2013. They helped Dann with the testing of the boab, paying for analysis at Queensland University and getting him pro bono legal representation.
"Morrgul helped me out in many ways," says Dann. "They helped me get all the stuff out there and it gave me a start with the boab beer."
Looking ahead, Dann is keen to experiment brewing with other native plants in Kimberley, such as Kakadu plum, which is known as the dubinge in his language.
"It has the highest vitamin C level in the whole world and they can make anything with that as well," he says. "It's amazing what you can make with Indigenous stuff. We had chefs coming here and we take them out to country and we show them how we used the bush food and what they cook with.
"For young people growing up around Broome, we didn't know what we could do with indigenous produce around Kimberley, but you find out more because of the teaching of your elders And it's up to you to take that next step. And that's what I did."