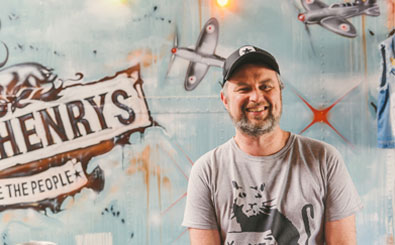 Young Henrys and Kegstar have announced a multi-year keg supply agreement aimed to support and facilitate their businesses' growth into the future.
Both Young Henrys and Kegstar have experienced rapid growth and expansion since opening for business in 2012.
"We see the Kegstar team as a natural partner for our business," said Young Henrys founder Richard Adamson.
"Kegstar's coverage of Australia and New Zealand, keg tracking expertise and ever increasing keg fleet are the perfect fit for Young Henrys and we're excited to be Kegstar's inaugural long term partner."
The Sydney-based brewery boasts a cult following of its beers, which has resulted in Young Henrys expanding operations to Western Australia, with plans underway for a South Australian brewery as well.
In just its fourth year of operation, Kegstar has a fleet of 33,000 stainless steel 50-litre kegs and works with more than 100 beer and cider producers throughout Australia and New Zealand.
In the past year, Kegstar has developed a customised keg tracking system and a network of keg collectors that can facilitate the rapid growth of businesses like Young Henrys.
Kegstar's new partnership with Young Henrys will include involvement throughout numerous areas of daily business.
"We worked closely with the Young Henrys team across all areas of the business, including delivery drivers, operations team, sales and finance, to agree the right solution and we're delighted to have agreed a long term partnership," said Kegstar COO for Australia & New Zealand Joe Cook.
Written by Adrian Thomas, TheShout