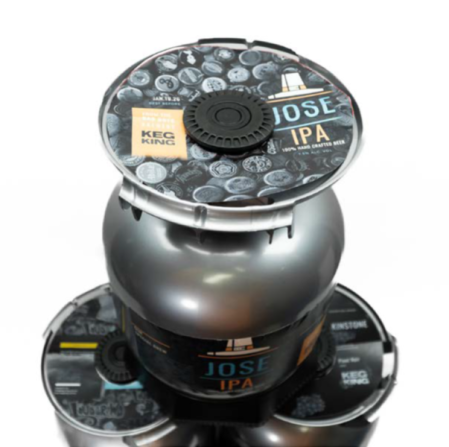 Keg King has introduced a 10 litre variety to its range of recyclable P.E.T. kegs.
CEO Will Fiala said: "With the introduction of the 10 litre variety, we are widening the potential for our P.E.T. plastic King Kegs to carry the more exclusive, obscure and potent offerings of some beverage makers. Where before, the price point on larger volumes would make the addition of higher strength beverages too expensive to add to their tap line-ups, the 10 litre will make it an affordable option".
Constructed from the same high strength oxygen barrier P.E.T. plastic material as the 20 litre King Kegs and available in A-Type and D-Type variety spear options, the 10 litre King Kegs are also individually pressure tested to 5 Bar at their Springvale, Victoria facility as part of their patented manufacturing process.
"Just like with our 20 litre King Keg, safety has always been at the heart of what we wanted to offer the industry, so with the 10 litre keg, users can immediately see the pressure relief valve built into the neck of the keg that helps to keep these kegs safe in transit and when being coupled to bar systems," Will added.
"The real winner with this type and size of packaging is the consumers who are going to be thrilled with these new 10 litre kegs.

"The ability for practically anyone to grab their favourite brand of beverage packaged in a portable 10 litre size offers convenience and economic advantages. They'll be getting a couple litres more than a carton or slab yet the space savings and packaging savings are really phenomenal.
"When we introduce the bagged versions of these kegs, the interior oxygen and light proof bag will provide users with the ability to dispense King Kegs using compressed air instead of CO₂ which is another great cost saving for users.
"This means that the 10 litre keg will work for mainstream tap beverages such as beer or cider and will also accommodate wines, sake, spirit and premixed beverages especially when the oxygen proof interior bagged variety comes on line shortly.
"Australian beverage makers do incredible work in providing the world with unique Aussie flavours. Keg King is proud to offer them Australian made kegs in which they can entrust every drop of their liquid and have the peace of mind that they're environmentally friendly because they're 100 per cent recyclable.
"Our goal with King Keg is to always ensure that your beverages reach consumers safely, exactly as you intended them to be experienced despite what the supply chain might throw your way. Our kegs are built to be tough, but with an active oxygen scavenger built into the design, King Keg can showcase even the most delicate beers."
This is an edited version of a media release distributed by Keg King.