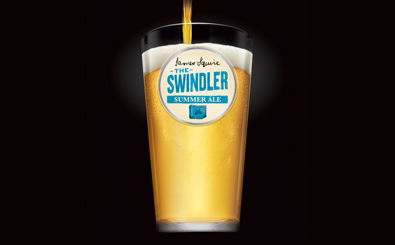 Written by Andy Young, editor The Shout
James Squire's The Swindler Summer Ale has been awarded the English-style Summer Ale gold medal at the World Beer Cup.
This year's competition saw more than 6,590 beers entered by more than 1,900 breweries from 55 different countries, with judging taking place in 96 beer categories.
Chuck Hahn, Malt Shovel Brewery brewmaster and James Squire's creator, who was in Philadelphia for the competition, said the win was hugely rewarding.
"This is a huge accomplishment for everyone involved with James Squire. A lot of hard work and effort has gone into making this terrific beer from brewers where The Swindler was created in the wonderful Malt Shovel Brewery in Camperdown, NSW and the West End Brewery in Thebarton, SA, where James Squire The Swindler Summer Ale is currently brewed," Hahn said.
"To win gold at these awards, competing with breweries and beers from all corners of the globe, is a great reflection of the quality of James Squire beers.
"We also want to say well done to all the other Australian craft brewers who submitted entries into the Cup this year. It's a great reflection of the standard and quality of craft brewing in Australia that Australian craft beer is being recognised on the world stage."
This is the second time James Squire has won a gold medal at the World Beer Cup after James Squire 'Four Wives' Pilsener picked up gold in 2008.
Hahn also explained why he felt the judges had chosen The Swindler for the gold medal.
"The English-style reflects the English heritage of James Squire. The overall impression is refreshing and thirst quenching. Consequently, it fits in well with our hot Australian climate. I have always described the beers in this category as having the richness of an ale, but with the refreshing characteristics of a lager," he said.
The silver medal in the English-style Summer Ale category went to Stone & Wood's Pacific Ale, with the bronze medal going to the True Blonde Ale from SKA Brewing.