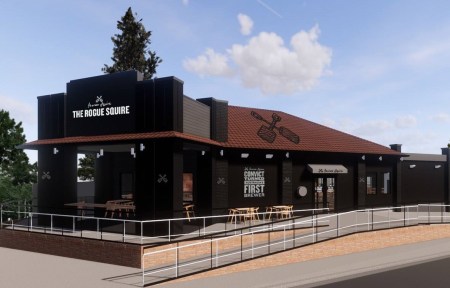 James Squire has opened its ninth brewhouse in the Melbourne suburb of Wheelers Hill, 25 kilometres southeast of the CBD.
The Rogue Squire – which officially opens its doors to the public today (6 September) – is located at the site of the former Wheelers Hill Hotel, where an infamous bushranger battle between a publican and three armed bandits took place in 1900.
James Squire has restored the watering hole to its former glory, including the upper level which has been revamped into a restaurant and casual dining space that spills out to a large terrace overlooking the Dandenongs. Inside the venue, layers have been stripped back to reveal original brickwork and floors.
The full range of James Squire beers will be available on tap, as well as various limited-edition brews from Malt Shovel Brewers and James Squire – such as the 'shipwreck beer' The Wreck Preservation Ale.
Head chef Darren McKinlay will take the reins at The Rogue Squire with a menu inspired by the diversity of cuisine in Australia. "Our food mantra is be honest, keep it fresh and don't overcomplicate things," he says.
"We will showcase a wonderful array of flavours and ingredients, many of which are locally sourced, to create the perfect menu to accompany the James Squire beer range.
"The Swindler Tropical Pale Ale Battered Fish and Chips with salt and vinegar seasoning is bound to be a crowd pleaser, along with our famous steaks and beer fodder grazing plates."
The new venue is operated by the Australian Leisure and Hospitality Group.