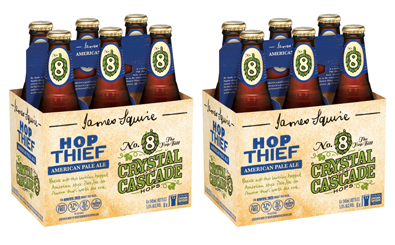 Malt Shovel Brewery has released its latest variation, James Squire Hop Thief 8, which is packed full of USA hops.
The latest Hop Thief comes off the back of its predecessor Hop Thief 7 selling more than 1.9 million litres last year.
Hop Thief 8 is described as having, "a pleasantly tropical tang, vibrant hint of citrus, alluring scent of grapefruit and spice with floral aromas."
Malt Shovel Brewery head brewer Chris Sheehan said the team searched the northern hemisphere hop harvest for the best hops in the world.
"The team and I have had a ball searching the world for our next signature hops and this search took us to the Yakima Valley in Washington State, USA. The desert like conditions at the base of the Cascade Mountains coupled with abundant irrigation, provided by the Yakima River, create an ideal environment to produce what many say are the world's finest hops – and this is what we chose for Hop Thief 8," said Sheehan.
The Malt Shovel brewing team chose Cascade hops, the quintessential American pale ale hop, which they had never used before, and Crystal hops, which bring spice with floral aromas. Both were sourced from the base of the nine million year old Yakima River, where hop producing began way back in 1872.
"Whilst Hop Thief 8 looks lighter than version seven, previous Hop Thief's have been a bit dark so we've tweaked the malt bill to bring the colour back to be true to style," explained Sheehan.
"It's got the same full mouth feel of number seven, the body of the beer is identical and the flavour is that little bit more controlled. It's very drinkable!
"We've also bumped the bitterness up, which some might say works against the current easy drinking trend…but trust us, bitter is good in this beer."