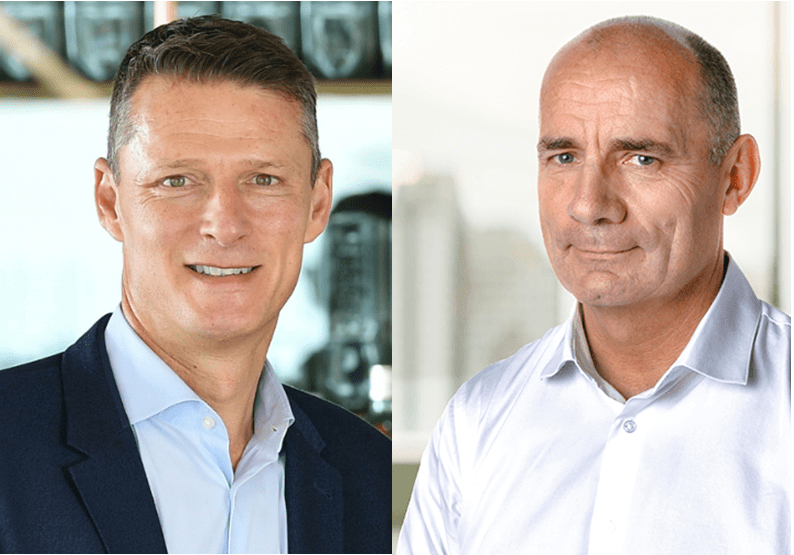 Lion has today announced executive changes, with James Brindley to call time on a 27 year career with the brewing company, the last 12 of which as managing director. When he leaves the chair at the end of this year he will be replaced by Diageo executive David Smith (pictured above on the left, next to James Brindley).
Lion CEO Stuart Irvine said: "On behalf of the entire Lion business, I'd like to thank James for his outstanding leadership and commitment to Lion's people, customers and communities. Over his 27-year career with Lion, James has made an incredible contribution to both our business and the wider industry.
"James has delivered 10 years of above-target performance for Lion Australia, led the acquisitions of Boag's and Little Creatures, Lion's share in Four Pillars and most recently, the proposed acquisition of Fermentum Group.
"As always, but over the past 18-months in particular, James has demonstrated true partnership through the most challenging period our industry has seen. I know that our customers will join me in thanking James for his support during this time."
Outgoing managing director James Brindley said: "After many years being part of this wonderful industry, I have decided it is time to call last shout and move on. I am grateful to the incredible people I have had the privilege to work with, not only colleagues but especially our customers and community partners."
In announcing the appointment of David Smith, who joins Lion from Diageo where he is currently Managing Director, Southern Europe, Irvine said: "David is a highly respected industry leader and already a familiar face to many of our Australian partners. He is committed to growing businesses through patient investment, enduring partnerships and motivating his teams to deliver outstanding outcomes for customers. We look forward to welcoming him back home to Australia and to Lion in January."
David Smith said: "I am delighted to be joining Lion, a business I have long admired for its leading brands, great culture and fantastic team. I look forward to working with the Lion team to create growth for the business and our customers."
In other executive changes announced today, Anubha Sahasrabuddhe will be joining Lion's Group Leadership Team as chief marketing officer after joining Lion in January 2021 as marketing, consumer and brand director. In her new role, Anubha will be responsible for marketing across Australia and New Zealand.
"This appointment is a wonderful endorsement of Anubha's contribution since joining us at the beginning of the year and a clear demonstration of our commitment to elevate the needs of the consumer across our business," Irvine said.
Sahasrabuddhe said: "I am thrilled to be joining Lion's Group Leadership Team as CMO. After a fast start at Lion, I'm excited by the motivation and support across the business to step-change our consumer focus. I look forward to bringing a consumer perspective to the leadership table and continuing to drive our brand marketing into new territory."
This is an edited version of a media release distributed by Lion.