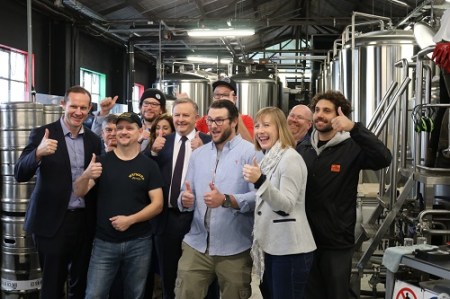 By Tam Allenby
Five of Sydney's Inner West breweries have this morning launched the Inner West Brewery Association (IWBA), in a bid to cement Inner West Sydney as the beer capital of Australia.
The IWBA founding members are Wayward Brewing Company, Young Henrys, Batch Brewing Company, Willie the Boatman and Grifter Brewing Company.
The group will drive beer tourism and economic development through local advocacy, public education and by working closely with community groups and local government. They have also announced plans for a new Inner West Beer Fest to be held in early 2018.
Speaking at a press conference this morning, The Hon Anthony Albanese MP Shadow Minister for Infrastructure, Transport, Cities and Regional Development, Shadow Minister for Tourism and member for Grayndler said: "The Inner West is now the heartland of craft brewing not just in Sydney but I believe in Australia, and I'm very proud of that fact."
"Craft brewing has thrived in spite of the fact that governments in my view aren't doing enough to provide assistance – at the moment, there's discrimination in favour of the big brewers versus these local, small business craft brewers because of the way the tax excise works.
"People come to these local communities and local breweries because they want to support their local economy. One byproduct of this is the growth of craft brewery tourism, there's great tours in the Inner West but right around Australia it's growing, and we believe that it's a great prospect for further growth in the future.
"That's why today, we're coming together to form the Inner West Brewery Association, a great initiative by these fantastic local small businesses. And as the local federal member, and the local Shadow Minister for Tourism, I'll provide them with every bit of support."
Albanese also added that craft brewing is one area in which the economy on a local level is getting ahead of government.
"What's happening is local communities are voting with their schooner glasses. Local communities are getting out there and supporting local breweries, they're supporting craft beer," Mr Albanese said.
"This growth is a phenomenon and it shows no signs of abating. What governments need to do is keep up with it and that's why we need action from the federal level, we need action from the state level and action locally as well."
Association President, Peter Philip of Wayward Brewing Co. said: "small independent breweries are helping to revitalise forgotten industrial pockets of the Inner West that have now become thriving and dynamic community hubs – the flow-on benefits to the Inner West are enormous, including jobs for locals, increased traffic to local business and better amenity for residents".
The IWBA also announced that the first Inner West Beer Fest will be held in early 2018, showcasing the best beer being brewed in the Inner West in the aim of becoming one of the best beer festivals in Australia.
Darcy Byrne, Mayor of the former Leichhardt Council and current member of the Elected Mayors Council of the Inner West, confirmed local Labor's support for the festival.
"If we're elected to the new council in September, we will establish this festival because we want to turbocharge this local industry," he said. "The love of craft beer is one of the wonderful characteristics of our inner west community, and we want to make it a strength of our local economy."
He added that red tape on a council level is restricting growth in the craft brewing industry, with brewers struggling to get applications through council and licensing restrictions making it difficult once a brewery is open.
"We will appoint someone within the council to work as a champion of the craft brewing sector, someone who can hold the hand of our brewers to get their applications through, rather than acting as an obstacle."
With Jo Haylen the member for Summer Hill in the NSW Parliament also present, Mr Byrne also said that Labor were proving their overall commitment to craft brewing.
"What you see here today is Labor committed at every level, at the local council, in the state parliament and in the federal parliament, to make craft brewing a success, and make the inner west the capital of craft brewing in Australia."
Membership in the IWBA is open to any production brewery located in the Inner West of Sydney and several additional breweries have already expressed interest in applying to join.