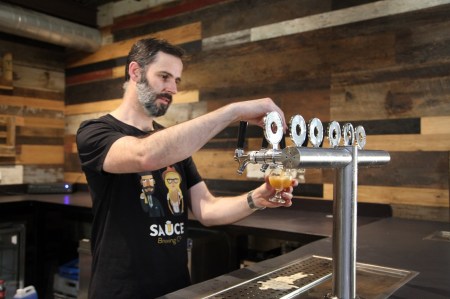 Breweries across Australia are planning for potential hardships in the face of the Covid-19 outbreak.
Brewers have been talking to each other and planning for best and worst-case scenarios.
Large gatherings banned
With gatherings of over 100 people already banned by the government, the industry has seen most beer festivals either cancelled or postponed, including GABS, Good Beer Week, High Country Harvest Festival.
For breweries that depend on their taprooms for sales revenue, the current ban is already a challenge, even more so if it is stepped up.
"Best case: we'll see a drop in trade (both in our own venues, and in wholesale sales to other venues) for the next few months," Mike Clarke, co-founder of Sauce Brewing, told Beer & Brewer.
"Worst case – total shutdown of all bars, restaurants, taprooms etc, for who knows how long. This would be the perfect storm for independent breweries.
"No wholesale revenue, no taproom revenue, wholesale customers unable to pay bills, and we still need to cover all our fixed monthly expenses plus pay our staff, suppliers and the ATO for beer already produced."
Sauce Brewing has a capacity of 200, with 80 indoor seats and 120 outdoors, so the current law shouldn't affect them. However, the brewery is going to reduce the number of people they let into the brewery and will spread out the tables to create more space.
"We're also going to be running a pop-up takeaway stand in the car park, so that people can drop in and stock up on takeaways without having to enter the venue and queue at the bar."
Yulli's in Sydney's Alexandria is also now offering takeaway options that will deliver within 10 minutes of Alexandria or to pick up from the brewery for people who want to support the brewery without visiting it.
Prevention measures
Sauce, like many breweries across Australia and the rest of the world, has already implemented the following prevention methodologies:
Ensuring that all patrons and staff wash their hands thoroughly and regularly
Sanitising the bar and all touch points like doors regularly
Providing sanitiser to patrons at the bar
Encouraging credit card sales rather than handling cash
Sanitising tables after a group leaves, so it is clean for the next group
Plenty of signage to encourage best practice hygiene
The effect on businesses
The IBA has called on the government to help breweries and venues to cope with a potentially damaging loss of revenue over the coming months.
Chairman Peter Philip has also called on customers to support their local breweries in the same way that they did during the bushfire crisis.
"Please do get out there and support your local brewery while you still can!" adds Clarke. "We are all going above and beyond to ensure our venues are as safe as they can possibly be.
"Obviously if you are unwell or have come into contact with someone unwell, self-isolate. But if you and your family are well and you're not in any of the risk categories, the best thing you can do to support your local brewery is to head in to those taprooms, have a beer or two, buy something to eat from the food truck, and stock up on takeaways."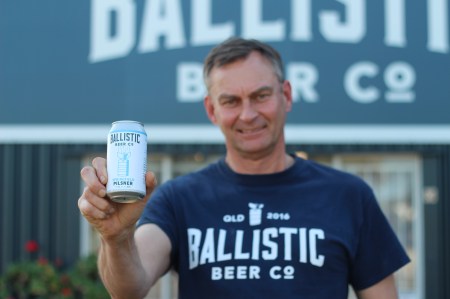 Looking after staff and customers
With BrewsVegas still scheduled to go ahead in Brisbane, Ballistic Beer Co has had to consider its events schedule.
Those that attract more than 500 people were already off-limits, but now gatherings of more than 100 people have also been forbidden.
Ballistic is getting ready to respond positively at the end of the pandemic and to implement home delivery for customers.
"We are planning to be ready to fire up our cancelled events as soon as we can after the all-clear is given," David Kitchen, co-founder of Ballistic Beer Co, tells Beer & Brewer. "In the meantime, we will be refining our to-the-door delivery service to minimise the risk of people not getting access to our beers."
With three hospitality venues, there are three sets of staff and customers for Kitchen to consider.
The brewery is putting more seating outside than in, is promoting takeaways and is also now offering a home delivery service to locals.
Guidelines for looking after staff members remain fluid, given the rapidly changing environment, but the aim is for staff members to "minimise contact with infected surfaces and people".
"For all our staff, we want them to get themselves tested if they have a concern," says Kitchen. "So we are paying for doctors' bills, and will cover salary for two weeks for anyone who has to be quarantined. That way our staff, particularly the casuals, do not need to be afraid of going to the doctor and getting checked out."
Ballistic has also teamed up with Helios and Slipstream to arrange a brewery buddy set-up. In the event of one of their brewers contracting the virus and having to self-isolate, the other breweries will step in and offer one of their own to replace them, ensuring that the beer doesn't stop flowing.
As well as concerns about being able to stay open and keeping customers and staff safe in the hospitality environments, Ballistic and other breweries are also preparing for potential issues around the supply of ingredients.
"Currently our suppliers are confident they can keep the goods rolling in," adds Kitchen.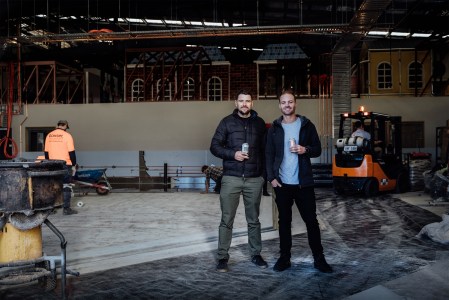 Reacting to health guidelines
In Canberra, a man in his 30s was the second person in ACT to test positive for COVID-19 and reported that he had visited Capital Brewing. However, given the health precautions that the brewery already had in place, the risk of transmission was very low.
"ACT Health believes there is a very low risk of transmission of the virus to other people from his visit and therefore no self-isolation or testing of partons or staff has been required," co-founder Laurence Kain tells Beer & Brewer. "Patrons and staff who were present around that time have been advised to monitor their health and report any symptoms.
"We'd already implemented a policy of any staff feeling even remotely unwell to stay home and report any symptoms. This will continue of course. ACT Health have advised the tap room is safe to open, and as such we continue to trade.
"We are in close consultation with ACT Health and will continue to take direction from them on how to keep our community safe."
The situation remains uncertain, with fresh legislation publishing on a daily basis. The National Cabinet is meeting on Friday 20 March and it is likely that further restrictions will be introduced.
A government statement reads:
"The states and territories will give further consideration to practical guidance and rules for non-essential indoor gatherings of fewer than 100 people (including staff) such as cinemas, theatres, restaurants/cafes, pubs, clubs, weddings and funerals. This will be considered at the next National Cabinet meeting on Friday 20 March 2020. In the meantime these venues should continue to apply social distancing and hygiene practices."

Kitchen does not believe that the government will allow hospitality venues to open after the weekend of 21-22 March, which would change the landscape entirely.
All of this is putting considerable strain on the craft beer sector. As breweries, venues and bottleshops lower their expectations and look for ways to support each other, they need help from all of us to buy their products where we can.
"My medium-term outlook is about ensuring continuity," says Clarke. "Certainly a re-think of future expansion plans as the funds I'd put aside will now be used just to keep things on track.
"Keg sales have dropped off a cliff, but on the plus side, retail sales are on the up as people stock up.
"We're expecting all bars, pubs and restaurants to be closed by next week. So all planning now is all about supporting our retail partners to ramp up their online and in-store sales.
"We don't think retail liquor stores will be closed but of course anything could happen at this point.
"We've reduced our production volumes for the next few brews as we are expecting reduced sales, one way or another.
"We're still pushing ahead with the build of our Cairns brewpub, but Cairns has been particularly hard hit by the flight bans so the town is already feeling the pain. It will likely to be a more conservative fit out and a longer return on investment."