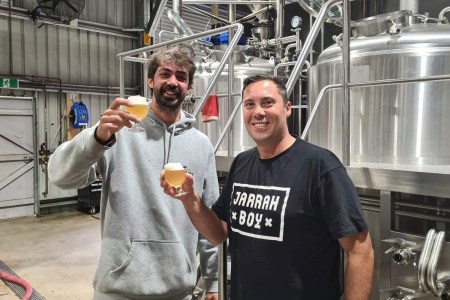 The championing of Indigenous ingredients and the First Nations businesses that supply them has blossomed in Australian beer in recent years with the likes of Beerfarm's Native Series, Sobah and Spinifex Brewing chief among the proponents who are consistently delivering a distinctly homegrown approach to their craft.
Soon to reinforce that list will be Jarrah Boy – a new beer brand founded by Indigenous man and chef Dale Vocale who is set to release the first of three planned lagers that will each have all-Australian ingredients and feature various native food additions that have been ethically sourced via the Aboriginal bush food enterprises that process them.
All three of the upcoming lagers will bear a traditional Aboriginal name from either Dale's ancestoral Ngarigo/Monero Country (East Gippsland) or the Kabi Kabi language of the Sunshine Coast where Jarrah Boy beers are contract brewed at Boiling Pot Brewing in Noosaville.
The first is the Tirum Sun Lager which takes the Kabi Kabi word for the sun and, as well as Australian malt and hops, harnesses native yams grown on Country and sourced from Something Wild, an Indigenous supplier of wild harvest bush foods. Tirum will be followed closely by Gwangal Red Lager, brewed with native Jarrah honey sourced from Indigenous beekeepers in WA, and then a dark lager named Mulu.
The colours of the three beers will fittingly match those of the Aboriginal flag.
As a beer lover and someone who runs a food truck and catering business that showcases native foods, Dale told Beer & Brewer that many of his passions are encapsulated by the Jarrah Boy concept. But he said a key facet of the project is to fly the flag for Indigenous culture in a contemporary setting and to help bolster the First Nations businesses that make native ingredients available.
"There's definitely been a shift in people's perceptions around the use of native ingredients and that what has already proved successful in the food world can be applied to the beer world too," Dale said.
"(Like Beerfarm, Sobah, Spinifex and Jarrah Boy) we need more businesses with scale to support these (Indigenous) supply chains. We need them to be in a position where they can bank on demand and be able to cultivate more land – so they can grow too.
"Seeing (Jarrah Boy) getting off the ground is hugely rewarding for me – and for everyone who has backed me on this journey. But it means a hell of a lot more than just putting beer out there, but celebrating what an all-Australian beer can be and can mean for all the people and communities involved along the way."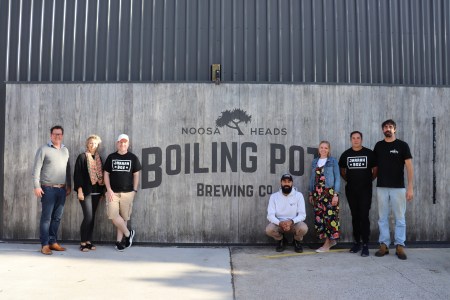 Among those who have backed Dale's vision are ex-Carlton & United head of innovation Adam Murphy (pictured above, third from left) who is advising on the development of the Jarrah Boy brand and the marketing surrounding its launch, and Boiling Pot's owner John Madill (pictured above, far left).
"Dale's vision for Jarrah Boy was so strong, and its message so meaningful, that after leaving CUB, I called him and said 'what help do you need?'," Adam said in a statement. "Helping Dale shape the raw brand concept, to play a part in shaping Jarrah Boy's look and voice, has been an amazing journey. I've learned so much about Indigenous culture, and the role we can all play as allies for Indigenous excellence."
Dale said John was likewise fervent towards the Jarrah Boy concept.
"I had a chat with John – who's from Kabi Kabi Country – and he said 'Dale, I love it. After meeting you and hearing what you want to do, how can I say no?'.
"To have non-Indigenous allies, that are cemented in this industry, come forward and say 'Dale, this is fantastic' is massively exciting.
"I go to so many corporate events like Indigenous excellence awards… and we mark the occasion by having an Asahi or a Peroni and everyone's asking 'Dale mate, when's the Jarrah Boy gonna be available?'.
"It'll be nice to change that narrative hopefully one day soon too."
If you're on the Sunshine Coast, you can taste a preview release of the Tirum Sun Lager exclusively at the Peppers Resort Noosa restaurant View by Matt Golinski while it will be on tap and in cans in select Sunshine Coast venues from October 20.