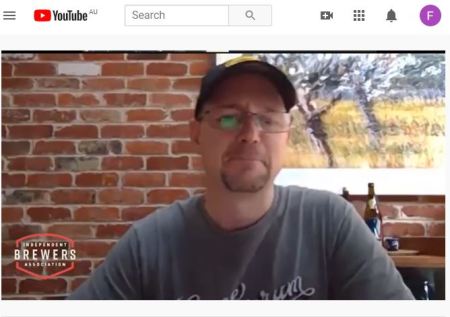 The Independent Brewers Association (IBA) has hosted a Webinar to answer questions and deliver advice to brewers during the COVID-19.
Hosted by IBA chairman Pete Philip, the webinar also featured members of the IBA board.
Philip reiterated that Good Beer Week and the Indie Beer Showcase have been postponed, the South Australia Mash Up has been cancelled, but BrewCon is still scheduled to go ahead in Brisbane in September.
He celebrated the win regarding pregnancy labels and thanked everyone who contributed to the campaign.
"That's what won that," he said. "That's the power of working together and I think we should pat ourselves on the back."
But the main issue on the table was, of course, the COVID-19 situation and how breweries are holding up. The IBA sent a letter to the government on 17 March asking for support and then sent another one on 23 March in conjunction with the Australian Distillers Association (ADA) asking for government support.
Fill in the survey
The IBA has set-up a survey on its website and Philip called on all members to fill it in.
"We've had a reasonable hearing from the Treasury," Philip said. "But at the moment, everybody is asking for a handout. It serves our industry to look bigger and to partner with like businesses. So we've joined forces with the ADA because together we represent over 5,500 staff.
"Our advice from our lobby consultants is we need to make a lot more noise. This is the most crucial time for this. Our regional and rural argument and story is the strongest part of our argument.
"Regional businesses are doing it the hardest because they have effectively lost 100% of their revenue and very few package their beer.
"We need to have the evidence behind us. We've got some anecdotal stuff, but we need data."
"I plead with you to fill in that form," added Kylie Lethbridge, general manager of the IBA.
Contact your MP
The IBA is setting up a campaign that will make it easier for brewers to contact their local MP, something that Philip has urged brewers to do – particularly if they are in the Cabinet.
"We're drafting an email you can send to them," he said. "Add anything that's specific to you. Ask them 'have you contacted the treasury about this and what are you going to do about it?' Put them on the spot and ask them for a response. We'll try to circulate a list of cabinet members.
The association is also setting up a 'Save Your Local Brewery' campaign. A media release will be made available which brewers can customise to their own specific message and get out to the world.
"The next most important thing for us to do is activate all our consumers," added Philip.
Social media
The IBA is offering social media and digital assets to help promote every brewery's individual story to help to drive a message urging people to support local businesses and keep them going.
"We'll be pushing through PR stories and we'll have an update as soon as possible," said marketing manager Maryann Separovic.
"We have a responsibility to be the voice of the indie brewers but it's up to you to leverage that," added Dereck Hales, co-founder of Bad Shepherd. "Maryann has given you a lot of tools. Get out there and personalise the situation. The big brewers can't, we can. Tell your story."
Excise deferments
Further advice from the IBA including going to the ATO to ask for excise deferment, going to the banks and asking to defer business loans, and going to personal banks and asking to put mortgage payments off.
"It's really important that you conserve cash and come out of the other side of this," advised Philip. "We'll do our best to get the government on-side, but we all need the cash to survive."
There was further advice about setting up online systems to encourage people to buy beer. Mixed boxes, sampling boxes, half boxes, discounts for returning customers were all posited, but the IBA stressed the importance of continuing to support bottleshops and not undercutting them.
In terms of shipping, cooperation and shopping together were recommended.
"If they charge freight by the box, then tape them together and book it as one carton," advised Johnny Latta, founder of Nomad Brewing.
A number of questions were posed online, including one asking whether breweries were classified as 'essential services'.
According to the IBA, the fact that bottleshops are classified as essential means that breweries – as part of that supply chain – are also essential. Globally, brewing is seen as essential, and breweries in the USA and Europe are still brewing, so the IBA would be surprised if Australia went down a different route to the rest of the world.
Five-point plan
The IBA has also listed a five-point plan for brewers to be doing right now:
Make sure you're preparing a short term cashflow. It's going to help if you need to go to the bank;
See if you can find any eligibility for government assistance;
Identify your creditors and key stakeholders;
Communicate, reach out to people and tell them what you're doing;
Directors duties: if you're a director of a company the government has relaxed insolvency laws. That's to give you a bit of headspace to formulate your business plans.