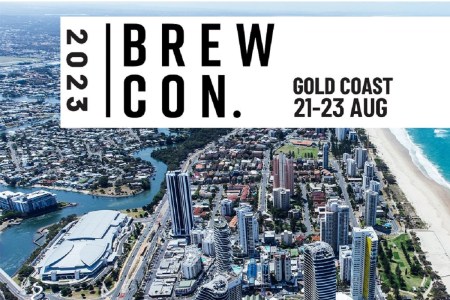 The Independent Brewers Association (IBA) has released the program for its BrewCon 2023 event on the Gold Coast August 21 – 23.  
The program features presentations from industry professionals, as well as speakers from other business sectors. The first day's keynote address will be delivered by business analyst and media commentator Bernard Salt, who leads the Demographic Group, with Bob Pease, CEO of the American Brewers Association, presenting the second day's keynote address.
View the full program here. Three sessions will be held in each time slot, with highlights such as:
ABAC: All you need to know about the new code and the future for alcohol marketing, presented by ABAC chief adjudicator Professor Michael Lavarch
Hyper Local Hospo, led by Justin Joiner, hospitality project group lead and Stomping Ground co-founder, alongside Felons Brewing Co brand director Dean Romero, Moffat Beach Brewing Co general manager Craig Williams and Beerfarm general manager Emma Locke.
Training for a better future, led by IBA board advisor and co-founder of Young Henrys Richard Adamson alongside Moo Brew's Jack Viney, Girfter Brewing Co's Karli Small, and Lallemand Oceania regional manager Daniel McCullouch.
Maximising your opportunity: how to sell more beer, presented by Bright Brewery's Evin Craney, alongside Nick Murphy, Jay Baird, Grace Knox, and Nick McArdle.
All things brewery finance, led by Callum Reeves, KAIJU! Beer co-founder, alongside Stripe investment leads and accountants, and Akasha Brewing Co founder and CEO Dave Padden
Sustainable malt is here: How it benefits your brewery and the planet, led by Daniel Baillon, craft commercial manager of Joe White Maltings, Phil Meddings, co-CEO of Bintani Australia, Ash Truscott, managing director of Certified Sustainable, and Hamish Coates, co-founder and managing director of Rocky Ridge Brewing Co.
Attendees will be able to spend the breaks at the Konvoy Brewers Lounge or grab a beer at one of the expo bars hosted by Cryer Malt, HPA and Bintani. A number of workshops will be held throughout the lunch breaks, including Experiments in Haze by Bluestone Yeast.
The brewery tours, hosted and sponsored by Brewtique and Fermecraft, will take conference attendees through Burleigh Barrels and its automated facility, followed by Black Hops II and Madocke Brewing Company.