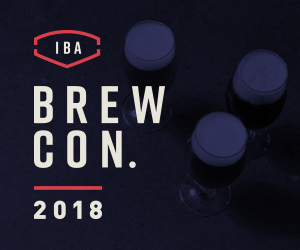 The sixth annual brewers conference is set to be held in Sydney's Australian Technology Park from 26-28 June.
Formerly known as the Australian Craft Brewers Conference, BrewCon 2018 will feature seminars, speakers, brewery tours, workshops and a brewing trade expo over three jam-packed days.
The conference concludes with the Independent Beer Awards Aus. (formerly the Craft Beer Awards), a night where the industry gets together, beer in hand, to support and celebrate the independent beer industry.
Kim Jordan, co-founder, executive chair and former CEO of New Belgium Brewing will present the keynote address at this year's conference. She was recently named one of 2018's 30 World-Changing women in Conscious Business.
The full BrewCon program is being unveiled on 13 April, but some of the big names who will present include:
Matthew Brynhildon, brewmaster of Firestone Walker
Teri Fahrendorf, brewmaster and founder of Pink Boots, and malt innovation centre manager at Great Westn Malting
Chris Swersey, supply chain specialist of Brewers Association, and competition manager of World Beer Cup and the Great American Beer Festival
Jason Perrault, CEO and header breeder for Select Botanicals Group.
The IBA has also launched new branding, as well as a rebrand of each of the IBA's keystone events: BrewCon and the Independent Beer Awards Aus. a.k.a – The Indies.
Early bird tickets are on sale now and will close on 27 April 2018. For more information about BrewCon, check out the new website.