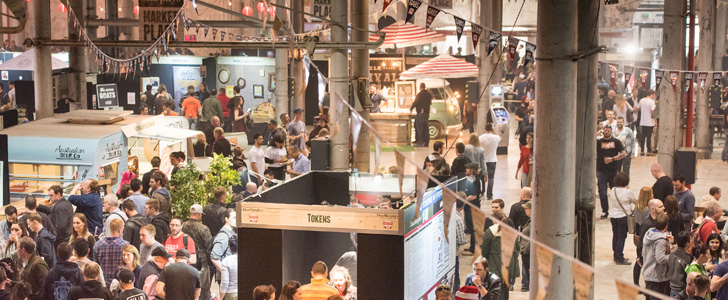 After a huge opening weekend in Melbourne with more than 17,600 people through the doors, GABS Beer, Cider and Food Fest rolls into Sydney tomorrow (27 May) at the Exhibition Hall, Australian Technology Park in Eveleigh.
While there are plenty of surprises in store for Sydneysiders, GABS is all about the 120 Festival Beers, which have been specially crafted for the event. This year has seen some truly weird and wonderful creations by brewers, from 7 Cent Brewery's Belly Button Beer (crafted with real brewer belly button fluff), and Robe Town Brewery's Moby Dick Ambergris Ale (whale's vomit anyone?) through to Two Bird's Jam Donut (a Belgian blonde ale with raspberry and cinnamon), there is a beer to suit every palate.
"Alongside the 120 new Festival Beers made just for GABS, the introduction of Festival Ciders sees 10 ciders made just for GABS by the leading cider producers around Australia," GABS co-founder Steve Jeffares told Beer & Brewer.
Food is another focus at GABS this year, with Beer Diva, Kirrily Waldhorn, hosting a series of free, fun-filled seminars at Steel's Food & Drink Experience. Here you can find out why great chefs love craft beer and cider so much, experience the art of beer/cider gastronomy at its best and immerse yourself in these hands-on, interactive sessions.
"The standard of food and vendors at GABS just gets better every year and the grub on offer at the James Squire Food Market this year, includes; Three Blue Ducks, Chrissy's Sausages, Ze Pickle, Yulli's, Porteño and Salmon & Bear."
Time Out magazine are running a series of fun and free tours, with beers and ciders ranging from the easier drinking to the more challenging.
"Time Out Tours sees tour guides Dave Phillips and Scott Dewar giving guided experiences where you will taste from beers, learn facts about the beers and GABS and meet local brewery personalities," explained Jeffares.
The Local Taphouse will be presenting 'Craft College' at GABS, a popular series of free and educational seminars hosted by Pete Mitcham (aka Professor Pilsner). Free beer and cider samples are provided!
With barrel ageing such a big trend at the moment, Feral Brewing will be demonstrating the effects of aging a beer in different types of barrels.
"The GABS Feral Barrel Experiment will showcase the same beer brewed by Feral Brewing in seven different ways as they have been aged in seven different barrels previously home to the likes of wine, sherry, bourbon, whisky and tequila. Brewers Will and Brendan will also be on hand to chat about the process," Jeffares said.
The Dan Murphy's Marketplace is where breweries, cideries and related businesses (like Beer & Brewer) will be showcasing their products. So once you've found a favourite Festival Beer, Festival Cider or Food Dish at GABS, head to the Beer & Brewer stand or the GABS Official App to vote in the GABS People's Choice. You could even win 10 cases of beer!
"Whether you're a novice or nerd, our main aim with GABS (and The Local Taphouse and Stomping Ground, for that matter) is to educate people about the fantastic diversity of beer and cider in a welcoming, inclusive and fun way. If all you get from GABS is a hangover, then you've missed out!" said Jeffares.
The GABS Festival is on from Friday to Saturday (27-28 May) in Sydney, with sessions selling fast so book your tickets here now. The schedule of all events and more can be found in the Official GABS App.