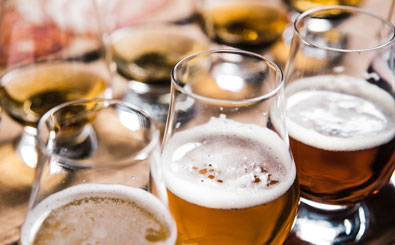 Greg Sanderson from Melbourne's Boilermaker House explains how to match beer and whisky like a pro.
Written by Greg Sanderson
There are few greater pleasures in life quite like sitting down with a glass of your favourite brew. So how could this pleasure possibly get any better? Well it most certainly can. It has been known by many names and most out there simply enjoy this pairing without even knowing it does indeed have a name. I am talking about the 'beer with whisky chaser', the 'one and one', a 'beer and a shot' or as it is more commonly known today, the 'boilermaker'.
How the title of an industrial metal worker became attached to the name of our humble beer and whisky matching is lost to the ages but I think it is a very fitting name for this duo of awesomeness. The boilermaker has been for many years the go-to knock off for hospitality workers worldwide, but in the eyes of the general punters the combo shrank into the background with its big shot competitors of fine wine and cocktails. In the past few years, however, the humble boilermaker has been making a big come back and is now called for in pubs, restaurants, cocktail bars and clubs with renewed enthusiasm. A large part of this gain in popularity is from the impact of the craft beer movement over the past decade.
Now more than ever we have a huge selection of fantastic craft beers at our finger tips and more and more whiskies hitting our shores giving us endless boilermaker combinations. But how does one go about choosing the combination to enjoy? The aim of the perfect boilermaker is to create a drinking experience that is greater than the sum of its parts. Whilst there are no hard and fast rules on matching your favourite brew to a fine dram there are certain elements one should consider when making this choice.
The Three C's
Those who have enjoyed matching great beers to food would have a good grasp on the three C's of flavour matching. The pairing can complement one another, counter one another or cut through. How does this look in the world of boilermakers?
Complement
Take a big fruity, bold, hop-forward IPA and let's look what whiskies might match up. To complement the intense fruit we would look for a whisky that showcased tropical fruits, stone fruits and citrus. A Glenmorangie 18yo, Hakushu 12yo from Japan or even a Cragganmore 12yo would work well here.
Counter
Countering flavours with a boilermaker serve is where I have found the greatest success. Take this sexy glass of IPA we are enjoying; to counter with a whisky we would look to incorporate a whisky showcasing a much more savoury profile, maybe a maritime whisky with a good lick of saltiness or a briny character. Here we could look to some coastal drams like Oban 14yo or Old Pulteney 21yo both from Scotland.
Cutting
Cutting through the flavours of a big IPA would require a rich whisky with a high ABV or a good hit of smoke. At Boilermaker House we have a boilermaker called the Islay Cure All where we take a nice hoppy beer and match it with Caol Ila 12yo, the smoke cuts through the intense fruit character of the beer but on the palate both still have the power to play.
Other proven matches I have worked with are: a fruit-driven whisky with a golden ale, a spicy sherry cask finished whisky with an amber ale or even a clean Japanese whisky showcasing stone fruits with a wheat beer.
Whatever your taste preference there is a perfect match out there for you and experimenting is extremely fun.