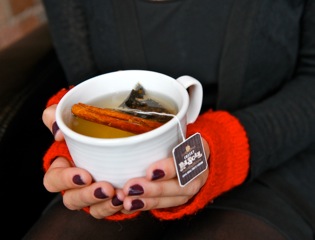 Cider would have to be the fastest growing category on the market right now, with giants such as Rekorderlig experiencing unprecedented growth. So it should come as no surprise that cider makers have begun leveraging their tipple as the beverage of choice for winter – instead of serving it over ice like in the warmer months, the new version is piping hot and comes with a little surprise: added spices.
The aforementioned Swedish giant was the first brand to indulge in the practice, launching their limited addition Winter Cider – an apple cider spiced with vanilla and cinnamon – that could be served hot or cold. The newest incarnation however, promises to be something different entirely. Rebello, the team behind Cheeky Rascal Cider, have created a product that marries their cider with a teabag-style spicebag for a spin on traditional mulled cider recipes.
Carrying a mix of cinnamon, star anise, orange, clove, nutmeg, vanilla bean and all spice berry, matched with either their apple of pear cider, the end product promises to be "a mouthwatering burst of hot toasty apple pie, or steamy poached pear crumble" according to CEO Ruth Gallace.
Our official taster (publisher David Lipman) agrees, having tasted the piping hot sample that was delivered to his desk earlier in the week. He also noted it was less sweet than the Rekorderlig offering, a fact that had stopped many from indulging in their Winter Cider.
Ms Gallace notes that although anyone can make mulled cider, Cheeky Rascal had taken the hard work out of the equation. "[We've] blended just the right combination and amount of freshly ground spices. There's no measuring out spices and trying to put it together in the right blend."
The product promises ease of use – simply decant into a mug (for microwaving0 or a pot (for stovetop), drop in the spice bag and heat through. Sold as a 750ml and promoted as a "best shared with friends" beverage the innovative combo has already been snapped up by Woolworths Liquor, Dan Murphy's, BWS and Vintage Cellars. Not bad for a new product. Keen cider drinkers can pick it up Australia-wide from June.