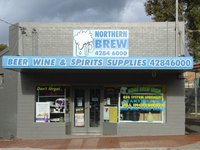 The Northern Brew was established in May 2004 by the current owners and from its current location has grown into the premier DIY, beer, wine and spirits shop on the South Coast, with a five day trading week.
The Northern Brew has a strong history of consistent trading results and has been well-managed for the future with the sale including the business website and extensive online shopping cart. The shop has a high turnover and excellent returns.
The shop itself is positioned in the beautiful coastal, and lifestyle, area of the northern Illawarra. It is a fully equipped retail outlet with off-street parking, providing a prospective purchaser with a turn-key operation with absolutely no further capital outlay on the internal fit-out, fixtures and fittings.
The business offers a large range of products and services including an extensive range of DIY beer kits and equipment, kegs, spirit essences and equipment, wine kits and equipment, and cheese, sausage and jerky making kits and equipment.
Northern Brew is seen as the premier one-stop shop for all DIY brewing enthusiasts.
Full comprehensive training will be provided.
Contact Neale Wallace on 1800 770 331.
Northern Brew
341 Princes Hwy
Woonona NSW 2517