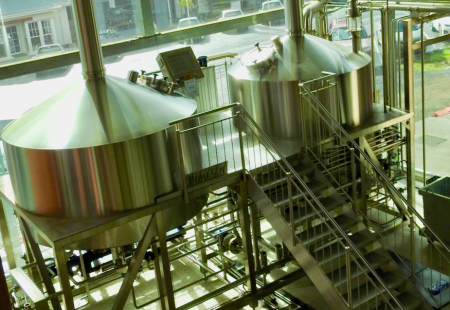 Holgate Brewhouse is celebrating 20 years of brewing with an event at its newly built brewhouse, taproom and visitor centre.
The brewery, whose crowdfunding campaign kicked off on Wednesday 18 September, has been building a new brewery, as well as a taproom and a visitor centre.
Planning permission was sought from the government back in 2013, while the overall building project has taken three years.
"We've seen how popular the beer experience and beer tourism is," Paul Holgate, who founded Holgate Brewhouse with his wife Natasha in 1999, told Beer & Brewer. "We've built on that and created an extra taproom for the brewery.
"People coming in are right amongst the high tech brewing kit that we installed last year. We'll have 16 taps (in the taproom), so we'll be able to put on a lot more special releases, sour beers, experimental stuff, as well as our regular beers."
The Victorian government has helped to fund the new brewery with some of its general tourism grant aimed at encouraging people to visit central Victoria, something that Holgate has gotten firmly behind.
"We're also promoting other beverage producers in the area – cider producers, distillers and wines," adds Holgate. "We'll have those products for sale, as well as having a visiting producer every weekend to give tastings."
The new taproom will also function as the brewery's bottleshop. Previously, the restaurant, front bar, accommodation check-in and bottleshop were all situated in the same place within the historic hotel, which had served as a stopover on the way to the Bendigo goldfields.
The new building is expected to simplify things. The new build has also included the introduction of a disabled access lift.
" Part of the reason we bought this reason in 2002 was because it had land at the back," says Holgate. "We had always earmarked that space to create a greenfield and create a purpose-built building for brewing, packaging and the taproom."
The new brewhouse itself will give Holgate a 2.5 million litre capacity (which Holgate admits they will have to build up to), with the potential to expand that to 5 million litres. As well as allowing Holgate to push the brand nationally and internationally, it also opens up contract brewing opportunities as well.
"We've always done a little bit of contracting here and there to help people out, but we saw there was an opportunity for people who wanted their beer made for them, so we designed this to be able to take active part in that market as well," Holgate continues. "We're also doing contract packaging, as well with some local cider makers."
The canning line, among other things, is to be funded through a crowdfunding campaign that kicked off on Wednesday 18 September after a promotional campaign. Holgate hopes to raise $400,000, as well as raise the marketing profile of the brewery.
"It's great for the marketing to get a small army of ambassadors around the brand," he told Beer & Brewer. "We're re-engaging with a lot of fans and a whole new range of fans through the campaign and the investment itself.
"Owning our own property here, we've invested heavily in constructing the building and the taproom. We don't really want to go out and go into more debt finance, but we did need to put in more equipment like canning machine, fermenters and so on. We thought this would be a great way to kill two birds with one stone."
Holgate has been celebrating its 20th birthday throughout the year, launching four special releases this year, but has picked 5 October as the official date, with a media event where a government official will cut the ribbon on the newly expanded brewery.