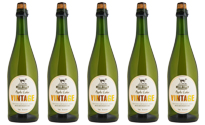 Fresh off the back of a double win at the 2014 Australian cider awards – a 'best in class' for the Hillbilly Pear & silver medal for the Hillbilly Apple – Hillbilly has launched a limited release Vintage Apple Cider.
The Vintage is a rustic French style cider from late 2014 season apples from just two orchards in Bilpin – Shields orchard and the Tadrosse family orchard. The cider has been double fermented and aged in French oak.
The Vintage is inspired by time spent by cidermaker Shane McLaughlin in Normandy this year.
"I've been experimenting with doing a French farmhouse cider for the last 12 months and after a trip to Normandy this year I got cracking," says McLaughlin.
"At 9% alcohol and a drier style we think it makes a fun and local alternative to cracking a bottle of champagne!"
Hillbilly Cider is based in Bilpin, Blue Mountains. Shane McLaughlin turned his winemaking skills to cider when he and his wife Tessa moved to an orchard nearly a decade ago
Hillbilly has won medals in the last three Australian cider awards since they launched in 2012.
RRP:
Hillbilly Vintage – $20/750ml bottle
Hillbilly Apple Cider/Hillbilly Pear Cider – $16/4-pack