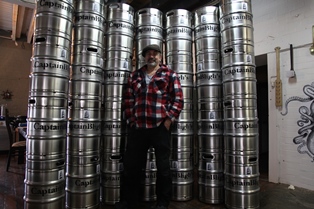 Captain Bligh's Ale and Cider brewer Stephen Brooks
The former Captain Bligh's Cidery in Hobart is under the new management of brewer Stephen Brooks and has been relaunched as Captain Bligh's Ale and Cider.
Steeped in history, Captain Bligh's is located on the corner of Elizabeth and Warwick streets, which once housed Punshon's, James Tasmanian Pale Ale, Adams and the Co-operative Breweries.
Captain Bligh's prides itself on using locally grown and sourced products to create its ales and ciders, which are made according to colonial laws and traditional recipes.
Some of the brewery's range includes; HIPA (Hobart India Pale Ale), James Six Guinea Pale Ale (Pale Ale), Huffcap (Stout), Stride Wide (Australian Lager), McGyver (Porter), Captain Bligh's Tasmanian Cider, (Sweet and Dry Festival Ciders) and Hedberg (Wheat Beer). The names reflect both a bygone era and the methods used to produce the rich flavours.
Captain Bligh's is also introducing a range of beer jams. Delicious with cheese, crackers and, of course, colonial ale, the jams can also be enjoyed on toast, in yoghurt, with muesli and in a whole range of other ways.
When asked about Captain Bligh's, whisky craftsman and Stephen's mentor, Bill Lark said, "Tasmania has shown that both local and national markets are crying out for traditional beverages handcrafted by the brewer himself. Steve Brooks, inspired by the depth of historical brewing so beautifully written by his wife, Karen, in her latest novel, The Brewer's Tale, has burst onto the local brewing scene with ales such as the Six Guinea Ale."