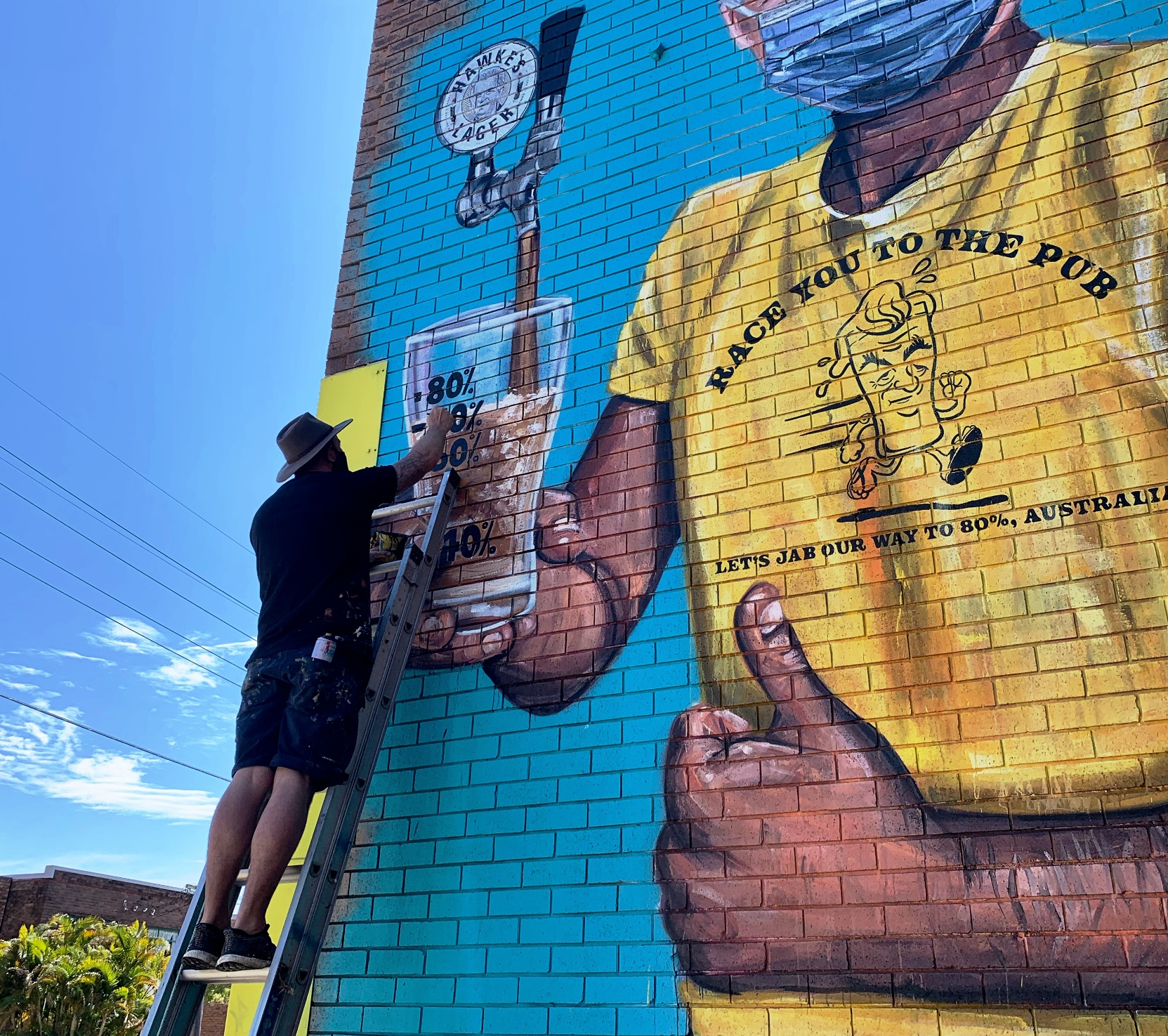 Sydney's Hawke's Brewing Co have today marked New South Wales' imminent celebration of "Freedom Day" by canning their first ever beer brewed in-house and updating a mural at their new Marrickville brewery where a semi-filled schooner of beer, held by the former Prime Minister Bob Hawke, rises with the state's vaccination rates.
Hawke's have been a leading voice in the beer industry on raising vaccination awareness in recent weeks as they settled into their own brewery after contract brewing since being founded by Nathan Lennon and David Gibson, and with the backing of Bob Hawke, back in 2017. Their Jab & Slab campaign and Every Jab Gets us Closer to the Pub mural were, alongside the likes of Batch Brewing's Freedom Day free beer campaign, some of the earliest and most visible initiatives to help drive awareness on the outcomes of high vaccination rates.
With NSW's double vaccination rates reaching the 70 per cent threshold this week, which state leaders have deemed the level that NSW hospitality venues can reopen from Monday under certain restrictions, Hawke's had the mural's schooner topped up by artist Scott Marsh today. Serendipitously, today also marked the occasion when Hawke's packed their first beer – the Hawke's Lager – to be brewed on their new 35-hectolitre brewhouse.
"It's a really special day for a lot of reasons," David told Beer & Brewer. "In everything we do we're trying to take a bit of Bob Hawke's leadership stance, and encourage businesses that are able to, to be creative and also try and do their bit to give back to the industries that are affected. Obviously, looking after our hospo mates (is paramount). That's over half our sales channel so it's really important that we help drive that."
Nathan added: "We just wanted to be a voice for independent brewing and small business – given how much people have suffered through this lockdown. So it's a really positive thing that we're at 70 per cent in New South Wales and I really feel that Monday is going to be a big, big one. I know pubs are getting thousands of bookings and that's just really positive for the industry as a whole.
"On top of that, for a brand that's been contract brewing for the four years of its existence, to actually be brewing our own beer, and having that control in our own brewery, is an epic moment for us."
The founders said Scott will come back and retouch the mural once all of Australia tips over the 80 per cent double vaccination rate "because we need the nation to reach (these thresholds) collectively. It would be great to keep the momentum going".
In terms of brewing capacity at their new brewery, the founders said they will start with volumes in the 1.3 million litre range with the ability to scale up to about 7 million litres should demand be there.
"We wanted to find a forever home. We didn't want to ever grow out of it," David said.
Their Sydney Street, Marrickville location is not far from the likes of Batch and Philter and the plan is to open their taproom "early next year".