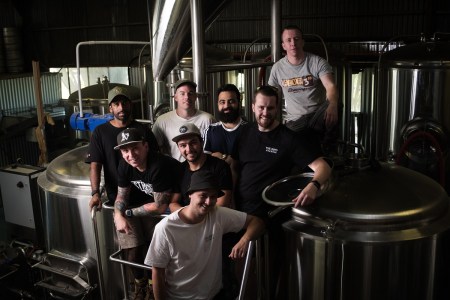 There are collaboration beers and then there's what seven Melbourne gypsy brewers have just conspired on.
Normally the domain of a couple of collaborators, the seven cohorts have taken theirs to another level and combined to create their Gypsy Kiss – a fruited American pale ale that will launch at a gypsy brewer tap takeover at Melbourne bar and bottleshop Grape & Grain come March 25. It will also have distribution with online retailer Hops to Home in their April beer pack and will be available in select bottleshops and bars.
Speaking with Beer & Brewer, collaborator James Isacsson from Avnge Brewing said the unique consortium came about after conversations with Grape & Grain co-owner Mark Storrs about doing a rare gypsy brewer tap takeover at the Moorabbin venue. James said if all of these local brewers were going to be showcased with a tap each it made sense to team up and work on one together.
"We haven't seen (a tap takeover event like this) for a very long time, so it's an opportunity to really showcase ourselves and do some cross-promotion," James said about his Avnge brand teaming up with Warrandyte Brewing, The Zythologist, Frexi Brewing, Firehouse 51 Brewing, The Boys Brewing and Five' 3" Brewing.
"I don't think what we're doing is such a big deal but quite a few people have commented saying things like 'wow, that must be a hard thing to coordinate'."
So how do you do a seven-way collaboration beer in someone else's (Killer Sprocket) brewery?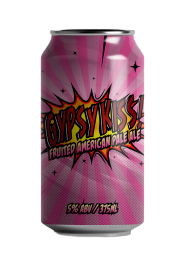 James said there was a lot of back and forth via the likes of a WhatsApp group for weeks as the concept matured and the recipe developed before all the logistics of the actual brew day, including design, packaging and finances, were nutted out.
"There was also consultation with the guys at Grape & Grain as well, as we all wanted a beer that is a bit unique but what would also sell," James added.
"We started with the idea of a fruited sour IPA which developed into what we've got now – a fruited American pale ale."
The fruited nature of the 5.0% ABV Gypsy Kiss APA comes care of natural blood orange flavouring while mainly late whirlpool additions of Citra, El Dorado and Galaxy hops elevate the theme whilst keeping the IBUs down.
The Grape & Grain gypsy brewer tap takeover on March 25 will feature the beer alongside a tap dedicated to each of the seven collaborating brewers. Keep an eye on socials for more information as the event gets closer.