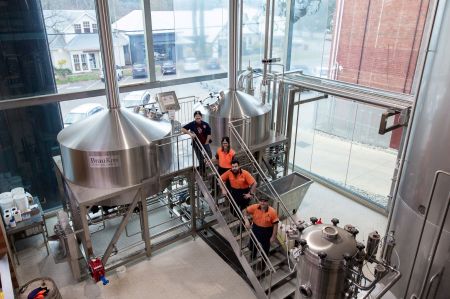 With over 20 years of history at the forefront of the Australian craft beer industry, Holgate Brewhouse founders Paul and Natasha Holgate, and their highly experienced brewing team, are well placed to assist both big and small businesses to grow their brand.
They have purpose-built a fully automated brewing and packaging facility at their Woodend location, just an hour's drive from Melbourne, which is ready to help people take their next step.
"We offer a range of different fermentation and batch size options so we have that flexibility to suit everybody," Paul said.
"We also have the benefit of hindsight to call on. This is the fourth time we've built or upgraded a brewery so it is purpose-built thanks to our years of experience and learnings from others in the industry."
Holgate have already helped multiple breweries, cideries and brands to develop and, via their partner brewing capabilities, have enabled them to produce and package products in can, bottle and keg for local and global markets.
Holgate's capabilities include a fully automated 50hL Braukon brewhouse, an 8,500 bottle-per-hour state-of-the-art German packaging line and a 6,000 can-per-hour canning facility. They boast a brewlength of 5,000 litres, with the ability to scale down to 25hL brews, a fermentation cellar featuring 3 x 25hL, 6 x 50hL, 4 x 100hL and 4 x 200hL fermenters (vessels), and a packaging cellar of 50hL, 200hL and 400hL Bright Tanks.
"It is all top-of-the-line and makes the brewing or packaging process more efficient and consistent," Paul said.
"Another key attribute in the overall service that we provide is our brewing team, some who have been with us for over seven years. That gives us tremendous amounts of experience that businesses can call on."
For more information on Holgate's partner brewing services, visit their website here. Or contact Paul Holgate direct on 0408 744 487 or paulh@holgatebrewhouse.com