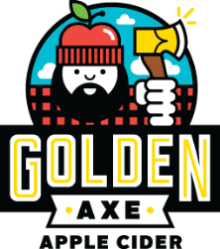 By Bec Cotton.
Northdown Craft Beer Movement has recently added the first cider to its once exclusively craft beer portfolio. Northdown distributes a selection of some of the best breweries from Australia and internationally and the addition of Golden Axe Cider marks the end of a three-year search for a cider to complement their portfolio.
Golden Axe finds its home in South East Melbourne, produced by a small group of self-proclaimed beverage geeks with a passion for local, quality ingredients and freshness of flavour. The cider's name pays tribute to Aesop's Fable of the Golden Axe, and is also the name of a cult classic video game from 20 years ago, a fact that co-founder Callum Reeves found out only after the name was locked down. "I just wasn't that cool as a kid… You'd be surprised how many people come up to us and say, 'I just want to try this because I loved the video game!'"
In its early days, the Golden Axe team was making the cider in the second bedroom of Reeves' house, but the arrival of a new baby meant that the production and bottling had find a new location, and these days takes place in Preston. The juicing for the cider is done at Summer Snow in Officer.
In line with the environmentally conscious philosophy at Northdown, where green technology and smart business are promoted, Golden Axe Cider is vegan, with only fresh apple juice and yeast used – no concentrates or added sugar. The juice undergoes a clean fermentation process, with no oxidation and as few yeast derived flavour and aroma products used as possible. The result is a crisp cider with a focus on the clean and fresh apple taste.
Despite being relatively new on the cider scene, Golden Axe has already picked up the People's Choice Best Cider award at the 2012 Fed Square Microbreweries Showcase. Reeves claims the most important thing for Golden Axe is having a really delicious cider and an engaging brand – "As long as people who are drinking Golden Axe are having fun I reckon we've achieved what we set out to do."