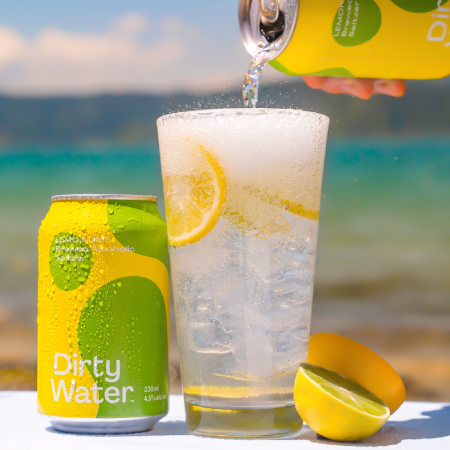 In a sure sign the local hard seltzer scene is bubbling away, New Zealand brewery Garage Project have now entered the category with the arrival of their new sub-brand Dirty Water.
Better known for their hyped and high calorie IPAs, the Wellington-based brewery's 4.5% hard seltzer range currently come in three flavours (Raspberry Yuzu, Lemon Lime and Pineapple Passion) and are gluten free with less than 90 calories and 1g of sugar.
They are currently only available for sale in New Zealand but Australian distribution is expected to follow soon.
Like Australian craft breweries Wayward (W-Seltzer), Stone & Wood (Sunly), Moon Dog (Fizzer) and others have done, the Dirty Water seltzers are brewed much like a beer. While greater depth of aroma, flavour and mouthfeel can be reached this way, brewed seltzers fall under the same excise as beer rather than a more expensive RTD tax had they been blended in the same way American brand White Claw is, for example.
Hops, water and yeast are in the brew but Garage Project have used the gluten free grain sorghum instead of malt. This gets boiled much the same way as malt wort would while real fruit and natural flavours are infused in the latter stages.
Garage Project's seltzer play adds further impetus to an already booming category Down Under as many breweries, both big and small, on both sides of the Tasman have raced to secure a foothold in the emerging market.
In the States, where the seltzer craze began and despite the impact of COVID-19, Americans quadrupled what they spend on hard seltzers in the past year — spending a whopping A$3.7 billion on the flavoured, alcoholic carbonated water and taking a 10 per cent chunk out of the beer and cider market (Nielsen resesrch).
Meanwhile, 10 per cent of Dirty Water profits will go to support clean water initiatives as Garage Project continue a long relationship with the Million Metres Streams Project – who are endeavouring to restore over one million metres of waterways across the country.