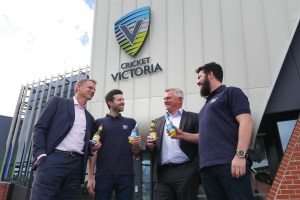 Western Australian brewer Gage Roads Brewing Co Ltd has been named as the official beer and cider partner for Cricket Victoria for the next three years.
The brewery has secured the rights to serve its full range of beer and cider at the CitiPower Centre at Junction Oval and at Official Cricket Victoria functions for the Melbourne Stars and Melbourne Renegades and at all Cricket Victoria events.
As part of the sponsorship deal, Gage Roads will also have signage at Junction Oval, including on the LCD screen throughout the game and at Cricket Victoria hosted function rooms.
"This is a a very exciting partnership for us and continues the roll-out of our brand-in-hand marketing strategy, which is targeting increasing sales and market exposure on the east coast of Australia," says John Hoedemaker, Gage Roads managing director. "This partnership opens the doors for our range of beers including Atomic Pale Ale, Single Fin Summer Ale, Narrow Neck Session Ale and Hello Sunshine apple cider to be enjoyed at Premier Cricket clubs and community clubs across Victoria."
"Having Gage Roads partner with us here at Cricket Victoria is a tremendous result and the added benefits for our Premier Cricket and community clubs across the state will help build a strong relationship with this innovative, fast growing brewery," adds Cricket Victoria CEO Andrew Ingleton.
"It gives us access to 33 clubs that are closely affiliated to Cricket Victoria," adds Scott Player, national head of sales at Gage Road Brewing Co. "It about 'brand in hand' marketing for us, making our product available for consumers. We're keen to pursue that so there's scope for expansion."