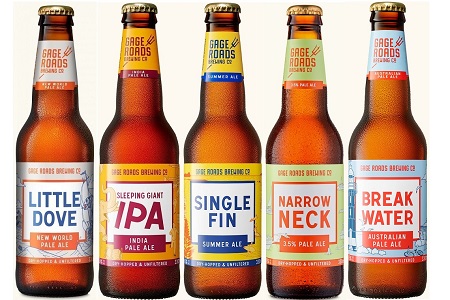 By Andy Young, TheShout
A year ago Gage Roads Brewing Co. kicked of its 'Returning to Craft' five-year plan after buying back its company shares from Woolworths and heading down its own independent road.
This week the Western Australian brewery published its results for the 2017 financial year, which showed a really strong performance and Managing Director John Hoedemaker told Beer & Brewer the results justify the share buyback and puts the company in a really strong position for the future.
"The result really supports our Returning to Craft strategy, in October we regained our independence when we bought back the Woolies shares," Hoedemaker said.
"The strategy was to create a sales and marketing capability and with us bringing on Scott Player, our National Sales Manager, we've brought the sales and marketing headcount up from five to about 20 people.
"A lot of those are working hard across the east coast and WA in representing our brand to the independent trade in both the off-premise and the on-premise and that's been really well received. So those results have been fantastic in helping to generate some good profit and some good cash flow."
The financial year saw the total sales of Gage Roads' proprietary craft beer products increase by 23 per cent on the previous year, to 3.4 million litres. Revenue increased by seven per cent to $27.2m, earnings were up 63 per cent to $4.4m and net profit after tax increased by 229 per cent to $2m. The year also saw a 270 per cent increase in sales to national independent retailers, while on-premise draught sales also performed strongly, delivering a sales uplift of 172 per cent on the previous year.
Hoedemaker said the company is right where it wants to be in terms of its five-year plan.
"It is pretty much where we were expecting to be within the Returning to Craft strategy," he told Beer & Brewer. "We were expecting the proportion of the Gage Roads brand sales to grow, and they have. The Gage Roads brands now represent 32 per cent of our sales volume at the moment, up from 25 per cent this time last year. So we are shifting towards our own brands and in four years' time we would like to see that at 70 per cent.
"We'll do that by continuing with the strategy of applying sales and marketing capability nationally and providing our customers – the bottleshops and the bars – with the margins and the accessibility that they are looking for."
He added that there will be some new beers coming from the brewery.
"We do have some NPD coming up for the 2018 financial year. The craft market has a lot of NPD and a lot of the growth in the craft market is coming from NPD and we've participated in that – Little Dove was NPD for last year. We have always had a number of limited or seasonal releases, around four per annum and that will continue and we might see if we can a few more to the core range."
In terms of standing out in an increasingly crowded craft beer market Hoedemaker said: "It's down to the application of your brand and your product with your sales team and marketing. It's a very complicated process. But ultimately all craft brewers need to focus on their niche, their strengths within what is quite a nichey market.
"What we have found our key strength is, that with the scale of our business, the quality of the people we have here and the systems and the quality assurances that we have in place, all these mean that we can put out very good quality beers and we can do that efficiently. And rather than keep that efficiency 100 per cent to ourselves, we have a philosophy that we would like to pass on to our customers and give them really good quality product for a reasonable price.
"We don't brew craft beer for a select few, we brew craft beer for everyone and I think that is where the market is going. Consumers are flocking to all sorts of different beers, whether they are exotic, high price-point beers through to the likes of ours, which represent really good value at around $57 per case.
"We do want to brew beer that everyone will enjoy, you look at our Little Dove beer, the best beer at the 2016 Australian International Beer Awards. But the standout for Little Dove is that I get all sorts of people coming to tell me that they love it. Whether they are really into their craft beers, or just entering the market, it is a very accessible beer and it wins Best Beer of Show, because it's a genuine, good quality craft beer."