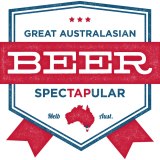 After the immense success of the Great Australasian Beer SpecTAPular in 2012, the team are back with bigger and better plans for 2013.
The 2012 event may have seen 60 brewers dust off their imaginations and get a little crazy, but 2013 will see over 100 exclusive, new release brews hitting the taps for punters to sample.
The Australian contingent will be roughly 80-strong with Feral Brewing (WA),
Mornington Peninsula Brewery (VIC), Bridge Road Brewers (VIC), Matilda Bay (VIC), Murray's
Brewery (NSW) and Wig & Pen (ACT) among those confirmed.

The Kiwis are also back after taking out thePeople's Choice Best Beer Award, with the aforementioned winners Yeastie Boys, 8 Wired and the Garage Project confirmed.
And even more excitingly, there will be a large contingent of some of the best known craft breweries from around the world in attendance with
Sierra Nevada Brewing Co (USA), Brooklyn Brewery (USA), Thornbridge Brewery (UK), Birra del Borgo (Italy), Mikkeller (Denmark), Camden Town Brewery (UK), Baird Brewery (Japan), Nøgne

ø

(Norway) and Moylan's Brewery (USA) all confirmed to be sending brews for the festival.
And there will also be changes this year to ensure that the queue situation from last year won't be repeated, as well as more opportunities to meet brewers and – that said everyone was remarkably well behaved and the

Other changes this year will mean much quicker access to beer at busy times and better opportunities to meet brewers.
The 2013 event will be held from 24 – 26 May.