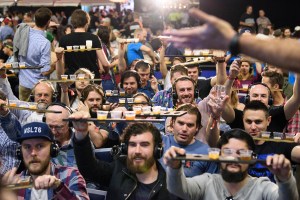 GABS Beer, Cider & Food Fest has previewed its range of unique 'Festival Beers and Ciders' which will be served at the 2018 edition of the festival, with ingredients this year including Tasmanian jam, toasted marshmallows, rhubarb, Skittles, ice cream, dates, yuzu, gin, Bertie Beetles, snails, crickets and oysters.
GABS (Great Australasian Beer SpecTAPcular) will be held this year in Melbourne from 18-20 May, in Sydney on 2 June and in Auckland on 30 June. Organisers say that the festival will feature over 160 unique beers and cider, along with more than 500 of the very best craft beers and ciders from around Australia and New Zealand. Attendance is expected to top 35,000, many of whom are expected to be new to craft beer.
"For us, GABS is about sharing our love of craft beer and cider with as many people as possible through an unforgettable experience," comments Craig Williams, GABS event director. "Great beer is about skill, passion and creativity and, most of all, fun. GABS brings all that to life, whether you're just starting out on your beer journey or the most fervent fan."
Now in its seventh year, the festival has grown from 22 participating breweries to see over 160 beers and ciders made especially for the event, which is presented by Dan Murphy's.
"For the brewers, it's a chance to showcase the quality, creativity and diversity of styles inherent to craft beer and cider," says Williams. "And for beer lovers… well, it's kind of like Christmas really! While the more exotic ingredients often get the attention, attendees will also find examples of many different beer styles, as brewers look to expand people's tastes beyond popular hop-driven pale ales."
As well as tasting beer and cider, attendees will also be able to talk to brewers and cider makers about their creations, while street food vendors will provide a range of different foods for the occasion. Further entertainment will be provided at the Holey Moley Golf Club and Colonial Caddyshack. Other additional features include the Milawa Cheese & Prosecco Bar – where people will be able to sample three cheeses whose rinds have been washed in beer, whisky and wine – and cocktail bars from Starward and Four Pillars (in Melbourne) and Jameson (in Sydney and Auckland) where they can taste whiskies, whiskeys, gins and cocktails.
At the Ariston Food & Drink Experience, attendees will be taken on a gastronomic journey of food, beer and cider pairings, while beer enthusiasts will have an opportunity to hear from some of the best in the business at the Brick Lane Craft College panel discussions and masterclasses.
GABS Beer, Cider & Food Fest, presented by Dan Murphy's, is also supported by Ariston, Little Creatures, The Local Taphouse, Yenda and Kegstar.
For more information head to the GABS website.